Chilean presidential campaign virtually takes off with reshuffle of cabinet
Tuesday, November 6th 2012 - 06:43 UTC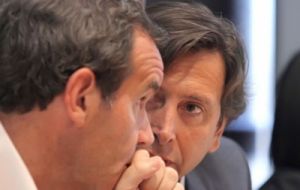 Chilean President Sebastian Piñera shuffled his cabinet to allow ministers with presidential aspirations to leave, as his embattled conservative coalition seeks support before presidential elections in November 2013.
The unpopular Piñera's right-wing bloc suffered a loss in municipal elections last month, which likely accelerated the departure of presidential hopefuls in anticipation of former President Michelle Bachelet return to make a comeback bid.
Public Works Minister Laurence Golborne, a charismatic businessman, and Defence Minister Andres Allamand, a seasoned politician, who are seen as the right's best chance to retain the presidency, both left the government.
"(Golborne and Allamand) are taking up what I see as the most noble of duties, missions and responsibilities that a citizen of our country can undertake: aspiring to the presidency," Piñera said at a ceremony to mark the cabinet change. "Go travel our country, region by region ... to conquer a new majority of Chileans."
Many Chileans hoped Piñera, a former airline and financial magnate would tackle social inequalities in Chile more effectively than his predecessors, but polls show they are disappointed so far.
Piñera's trusted advisor Interior Minister Rodrigo Hinzpeter was appointed Defence Minister, government spokesman Andres Chadwick was named Interior Minister and Santiago's governor Cecilia Perez became spokeswoman. Deputy Public Works Minister Loreto Silva replaced Golborne as minister.
National Heritage minister Catalina Parot also left in Piñera's third sweeping cabinet change, which is not expected to significantly affect policy in the world leading copper producer.
Ms Bachelet who ruled between 2006 and 2010 as head of a centre left catch all coalitions, Concertación, has the best chances of returning to office, according to all public opinion polls.
Although the coalition that supported her lost to Piñera and the Conservatives, she left personally with one of the highest support ratings in recent Chilean democratic history.