Mercosur 'denying Paraguay its legitimate right to the pro-tempore chair"
Tuesday, November 6th 2012 - 07:04 UTC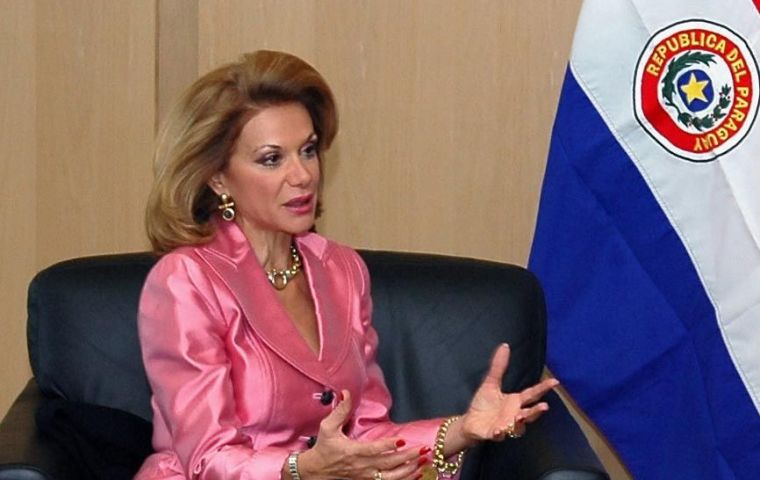 Mercosur is denying Paraguay its legitimate right to the pro-tempore chair of Mercosur next 7 December at the presidential summit in Brasilia when Uruguay will receive the relay from Brazil. On that same occasion Venezuela will be attending the meeting as full member for the first time, reports the Asuncion media.
"A new violation of the Asuncion Treaty, and harming Paraguay, will take place next 7 December at the 44th edition of the Mercosur summit in Brasilia. At the meeting, according to Article 12 of the treaty, Paraguay should assume the pro-tempore presidency of Mercosur for the next six months (fist half of 2013), taking into account that based on alphabetical order if follows after Brazil", according to an editorial from ABC Color Asunción leading newspaper.
However Mercosur is determined to continue with its 'marginalization' policy against Paraguay and will be handing the pro-tempore chair to Uruguay under the argument that Paraguay has been suspended of its rights and obligations.
"The argument is that on June 22 a rupture of the democratic process took place when then president Fernando Lugo was removed from office following the Senate impeachment for his ill-performance as head of the government. Lugo was replaced by Vice-president Federico Franco who has already held the office on several occasions during the multiple international trips of Lugo and his treatment for lymphatic cancer at the Sao Paulo clinic, and which was detected in 2010.
"At the next Mercosur summit in Brasilia, Venezuela will be making its debut as full member following a raft of violations of the Asuncion Treaty", said former Paraguayan Foreign minister Leila Rachid.
She recalled that at the previous summit in Mendoza, Argentina, on 29 June, Paraguay was suspended of its rights and obligations, and following on that the three other full members decided to include Venezuela as full member, which was made official a month later, July 31 in Rio do Janeiro.
On 23 August, the Paraguayan congress rejected Venezuela's incorporation project to Mercosur, thus impeding Caracas from becoming a full member since a unanimous vote from the four full members is needed, indicated Ms. Rachid.
But in spite of this, last week Brazilian Foreign minister Antonio Patriota travelled to Caracas and formally invited President Hugo Chavez to the summit in Brasilia, the first time Venezuela will be participating as full member and the second time Paraguay is left out of a Mercosur summit.
This in practical terms means that if Mercosur persists with its intention of marginalizing Paraguay, only in the first half of 2015 will the country be hosting a presidential summit.
Under the March 1991 Mercosur founding Treaty of Asuncion, Article 12 clearly states that "the presidency of the council will be rotated among member countries in alphabetical order for periods of six months".