Real estate activity drops dramatically in Argentina because of 'dollar-clamp'
Tuesday, November 6th 2012 - 20:41 UTC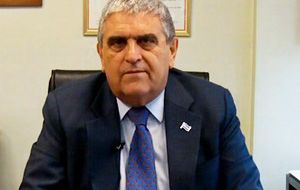 Argentina's real estate sector is already feeling the negative consequences of the 'dollar-clamp' implemented by the government of President Cristina Fernandez a year ago, and in 2013 the effect could have an even greater impact for the construction industry.
The statements come from Buenos Aires City Notaries College and the Argentine Real Estate Chamber that supported their words with numbers of the extent of the retraction in sales in the homes' market.
In Argentina with a long tradition of hyper-inflation, inflation and flash devaluations people prefer to save in US dollars or hard currency and major transactions such as buying or selling a home are done in the US currency. With the dollar-clamp access to dollars is closed and the Argentine government promotes using and saving in Pesos.
Armando Pepe from the Argentine Real Estate Chamber said that operations in September dropped 75% compared to a year ago, and warned about the loss of 115.000 jobs in the construction industry which could climb to 250.000 next year.
"We consider that the fall of the sector in September reached 75% and in October we expect an 85% fall in the sale of second hand houses. The rent market continues active because homeowners unable to sell opt to rent their properties", said Pepe.
Buenos Aires City Notaries College reported on Monday that the sale of properties during October dropped 47%, according to their registry.
"The current year is forecasted to be very bad for the real estate business, since sales will be below the 2009 level, which was the worst year in record since 1980, when stats on the industry were started", said the Notaries organization.
So far this year in the first nine months, a total of 35.081 operations were concluded, compared to 34.846 for the same period in 2009.
The construction industry is also suffering the consequences with a significant slowing down of activity according to the official stats office Indec which reported a slide of 9.6% last September compared to the same month a year ago. In the nine months of the year the contraction has reached 2.7%.
"Many real estate agents have closed their offices and many notaries are sharing space and consolidating to cut on expenses", said Pepe who slammed the government of President Cristina Fernandez as "autistic", only concerned about the 8N and 7D.
The 8N refers to a massive protest demonstration (and pot banging) organized by simple citizens through the social webs and with no political interference. 7D refers to the legal timetable to implement the splitting up of the Clarin media group, an obsession of President Cristina Fernandez, which she considers her administration's leading enemy.