Uruguay confirms in Argentina incentives for arriving tourists this summer season
Tuesday, November 6th 2012 - 18:22 UTC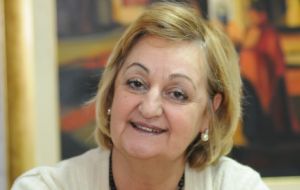 The Uruguayan government confirmed on Monday a raft of measures to attract Argentine tourists and compensate the restrictions in Argentina to purchase foreign currency (dollar-clamp) and the 15% retention fund for credit or debit cards operations outside the country.
The measures were announced by Tourism and Sports Minister Lilian Kechichian and the Uruguayan ambassador in Buenos Aires Guillermo Pomi during a lunch hosted for the press at the International Tourism Fair, FIT, currently taking place in Buenos Aires.
The first announcement was the VAT return to all those who pay with credit or debit cards issued outside Uruguay, for services such as restaurants, hotels, car rentals, travel agencies and the organization of parties. In Uruguay VAT is 22% but the reimbursement will be 18.5%, the rest going to administrative costs. The VAT return becomes effective November 15 until 30 March 2013.
During that period of time Argentine tourists who rent in Uruguay flats or houses through registered real agents will have a 10.5% return on the value of the contract. This is basically the elimination of a much controversial tax which applies to all rent contracts in Uruguay and has led to a parallel market.
Kechichian said the Uruguayan government will increase as of December first the number of border points where non resident tourists can request the return of VAT on purchases of different goods (Tax-free). This is extensive to clothing, food and drinks and is not limited to Uruguayan goods but also to imported goods. Tourists will be able to collect the VAT return at airports and sea terminals as well as at border bridges.
Finally the Minister, who was also accompanied by the mayors from the counties which receive most Argentine tourists, said that all those who arrive in Uruguay, from 15 December to March 30 in cars with foreign plate registration will receive a fuel bonus equivalent to 25 US dollars. This will be accompanied by a further 28% discount in fuel purchase, when paid with credit or debit cards in gasoline stations in a 20 kilometre radius from border crossings with Argentina. This is because fuel in Argentina is much cheaper than in Uruguay.
Although the measures benefit all tourists arriving in Uruguay, Kechichian said that the major influx comes from Argentina. Last year, 1.6 million Argentines visited Uruguay compared to 450.000 from Brazil.
"We are not making any forecasts about the concrete effects of this raft of measures to promote tourism, but our target is to keep those arrival numbers", said the Uruguayan minister.
Kechichian also pointed out that all those Argentines that have clearance from AFIP, the tax revenue office in Buenos Aires, will be able to operate through the Uruguayan Republic Bank, BROU, and make transfers in Argentine Pesos to Uruguay which will be converted at the official rate in Argentina for specific payments such as the different services announced above. Each operation will have a 10 dollar cost.
However Kechichian said that any normal transaction with Argentine Pesos in Uruguayan resort areas such as Punta del Este or Colonia will be exchanged at whatever is the going rate in Uruguayan money exchange houses.
"We already have too many Argentine Pesos, and it's not much we can do with them", admitted Kechichian emphasizing that the Uruguayan government's fiscal sacrifice is targeted for specific areas as was announced.
The minister also underlined that inflation is Uruguay is under control with a modest annual increase in the range of 7% to 8%, which is quite different to what happens in Argentina according to the estimates from private economic and financial consultants (above 24%).
But the minister wasn't telling the whole truth since inflation in Uruguay in the first ten months reached 9.11% and the government is implementing a package of measures to try and keep the index below two digits in the twelve months.
The measures include a basic food basket with reduced prices agreed with the supermarkets (obviously those products which are included in the CPI formula) and freezing or lowering public utilities rates, which in Uruguay are managed through government monopolies (fuel, drinking water, power, telephones).