"Crystal Serenity" licensed to operate a casino while in Chilean waters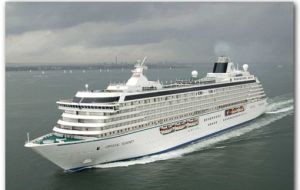 "Crystal Serenity" became the first cruise vessel licensed to operate and exploit casinos in Chilean waters, reported this week the country's Casino Games Commission, SCJ. However the ruling also points out that the company authorized to operate the on board casinos must suspend gambling during docking and departure and while sailing inside the three miles.

The cruise vessel must also be involved in tours with a minimum of three days duration or 500 nautical miles in the area extending from Cape Horn to Coquimbo.

To operate casino companies must register at Chile's SCJ, filling a form with the documents which guarantee the company has been in the gambling business for at least three years, other gambling industry experiences and the three last budgets and balances.

The form and all the documents required must be presented with 30 days anticipation to the beginning of the exploitation of the casinos in waters submitted to Chilean jurisdiction at the SCJ offices in Santiago.

Cruise vessels had been cutting back on the Chilean leg of their South American tours because they were not allowed to operate casinos while in the country's waters. The ruling became effective after the Chilean government privatized the gambling industry and allowed the opening of new casinos including one in Punta Arenas, extreme south of the country.

However the tourism and cruise industry started strong lobbying when the implementation of the system and the Chilean Congress finally passed a bill allowing for vessels to operate casinos if they comply with certain requisites.