Return of Colombia ambassador, expected to break Unasur exclusion of Paraguay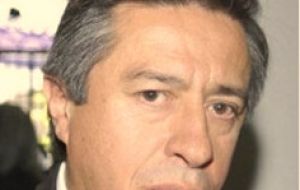 Colombian ambassador Jorge Barrantes will be returning to his post in Asunción this weekend, the first Unasur country member to do so, according to Paraguayan Foreign minister Jose Fernandez Estigarribia. Chile is also expected to adopt a similar decision in the near future.
"The Colombian ambassador will be returning next Saturday or Sunday depending on flight schedules and will immediately take his post in Asunción", said Fernandez Estigarribia, who argued there are no motives for Unasur and Mercosur countries' governments to keep excluding Paraguay.
The minister added that "(ambassadors) must return because they were called to their countries for consultations" following the events of June. Four months ago Mercosur and Unasur agreed to suspend Paraguay because of the removal of Fernando Lugo and his replacement by current president Federico Franco as a consequence of political impeachment.
The Paraguayan Senate by an overwhelming majority removed Lugo because of his incompetence in managing the country's affairs. However Mercosur and Unasur interpreted the decision as "a rupture of the democratic process".
Both regional groups withdrew their ambassadors, but only Venezuela suspended diplomatic relations following on claims from the current Paraguayan administration that Venezuelan Foreign minister Nicolas Maduro in the midst of the June events called on the Paraguayan military to move out into the streets in support of President Lugo.
The return of the Colombian diplomat and "other Latinamerican ambassadors" was anticipated earlier by President Franco who said it was "a political signal" much expected by the Paraguayan Executive.
Paraguay was suspended from Mercosur and Unasur until the next presidential election scheduled for April 2013, as long as all candidates and parties are ensured the full rule of democracy and can openly participate and campaign.
The other larger regional grouping, Organization of American States, was unable to agree on harsh measures against Paraguay and following an in-situ info data collecting mission, basically respects the political process and consequences of June's events.
Apparently the next ambassador to return to Asunción will be Christian Maquieira from Chile, probably by next Monday. With the support from Colombia and Chile Paraguayan diplomacy is trying to counter pressure from the hard line members such as Venezuela, Brazil, Argentina, Bolivia and Ecuador that insist with exclusion.
"The Executive is trying to establish strategic alliances with members of the Pacific Alliance (Colombia, Chile and Peru) to weaken the influence from President Hugo Chavez" who with the support from Brazil, and taking advantage of Paraguay's suspension, had Venezuela incorporated as a full member of Mercosur.
This despite the fact that the Paraguayan Senate never voted on the issue and is not prepared to accept Venezuela ruled by Chavez. According to Mercosur rules any new incorporation of a full member must have unanimous support, confirmed by all four countries Legislatives Argentina, Brazil, Paraguay and Uruguay).
"Unasur electoral observers can come to Paraguay when they wish, but they will not be invited", said Fernandez Estigarribia earlier in the week and suggesting that a political gesture from Unasur countries would help to smooth relations.
The return of the ambassadors is considered a positive gesture, plus the proposal by the president of the Unasur High Level Special Group on Paraguay, headed by former Peruvian PM Salomon Lerner to send a fact finding mission to Paraguay. The proposal should be in the agenda of the Unasur leaders scheduled to meet in Lima on 30 November.