Brazil says inflation in October peaked and should begin to ease
Thursday, November 8th 2012 - 07:08 UTC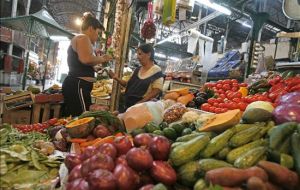 Brazilian Finance Minister Guido Mantega said on Wednesday that inflation has peaked and indicators are pointing to a retreat to a lower level. Consumer prices rose in October at their fastest pace since April due to higher food prices, government data showed, though a measure of wholesale costs suggested relief should arrive in coming months
Prices as measured by the IPCA index rose 5.45% in the 12 months through October, said the national statistics agency, IBGE in Rio de Janeiro. Monthly inflation quickened to 0.59% from 0.57% in September while food and beverages prices rose 1.36% in October, the fastest monthly pace since November 2010.
Higher food prices in October were led by manioc flour and rice, which increased 18.2% and 9.9%, respectively.
The Getulio Vargas Foundation's IGP-DI index, which includes wholesale prices, fell 0.31% in October, data showed earlier on Wednesday, suggesting relief in coming months for consumer inflation. Producer prices fell 0.7%, led by a 1.9% drop in raw materials and 1.3% fall in agricultural production.
The IPCA index rises were within the government's target range of 4.5%, plus or minus 2 percentage points.
Although inflation has been above the centre of the target for over two years and is expected to remain so through 2013, the central bank has said it would keep interest rates at their current level of 7.25% for a "sufficiently prolonged period," which economists say means most of 2013.
Slashing Brazil's historically high interest rates was a top priority for President Dilma Rousseff, who has been trying to support economic growth by encouraging investments and consumer credit.
Services' prices remained far above the top end of the government's target, though, suggesting underlying pressures are poised to mount as the economy picks up in 2013.
According to private estimates, services costs gained 7.98% in the 12 months through October, thanks primarily to a low jobless rate. Brazil, the world's sixth-largest economy, is expected to grow by 4% in 2013 after an anaemic 1.5% growth forecast for this year.