Ban Ki-moon and colonialism: people should be able to decide their own future
Monday, November 12th 2012 - 21:57 UTC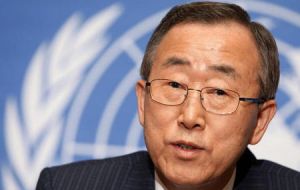 Secretary General Ban Ki-moon said UK is not violating relevant UN resolutions referred to the Falklands' and more specifically on colonialism, he argued that a prevailing impression is that "people living under certain conditions should have a certain level of capacities so that they can decide their own future", be it independence or some kind of government in their territories.
However Ban Ki-moon also insisted that the UN aims to see the conflict between Argentina and Britain over the Falklands/Malvinas resolved through dialogue, peacefully adding he was "concerned about the strong statements exchange between Argentina and the United Kingdom".
The UN Secretary General remarks belong to a long interview in New York with the Buenos Aires newspaper Tiempo Argentino, which is closely aligned with the government of President Cristina Fernandez.
"I don't think Security Council members are violating relevant UN resolutions. The impression is that people who are living under certain conditions should have access to certain level of capacities so that they can decide on their own future. And that is the main criteria of the main UN bodies. Having independence or having some kind of government in their territories. I don't think it's an abuse or violation of relevant UN resolutions", said Ban Ki-moon.
Argentina has on several occasions asked for the good offices of Ban Ki-moon to bring both sides together, Argentina and UK, and help establish a dialogue on the Falklands/Malvinas sovereignty.
"I know that the government of Argentina has agreed to this, and I still hope for the UK's agreement" said Ban Ki-moon.
"I have been urging both nations to resolve the issue peacefully through dialogue and I made clear that I am ready to offer my good offices to both sides so they can come together".
Anyhow the Secretary General said that "the UN has been working strongly from its very beginning to help non autonomous territories to achieve independence" and to put an end to colonialism.
"Of course there are still some which are ruled by certain structures from other countries, but I sincerely hope that as we move along the XXI century, all the people in the world can enjoy independence and the freedoms of those structures".
When asked specifically about the UK 16 Overseas Territories, Ban Ki-moon said he expected they are resolved 'ideally' through dialogue, particularly when we are talking about the Malvinas or the Falklands. All the rest of subjects will have to be discussed between the involved countries".
Ban Ki-moon also referred to changes in the Security Council saying that the issue has been on the table for over twenty years and following on the dramatic political changes worldwide, all member states have agreed to have the Council reformed in a "more democratic, representative and transparent form".
"There is an almost universal agreement that the Council must be modified but when it comes to the exact form of how it should be changed, then member states should accelerate negotiations".
Finally Ban Ki-moon said UN values enormously cooperation with regional or sub-regional organizations such as Unasur and Celac.
"When there is a regional issue we first wait for their reactions before the issue arrives at the UN. As far as I'm concerned the UN is always ready for close cooperation with these regional organizations".