Barrage of criticisms on Cristina Fernandez; unions planning national strike
Monday, November 12th 2012 - 05:54 UTC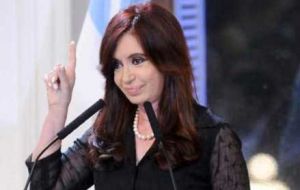 Argentine opposition leaders renewed their criticism of President Cristina Fernández accusing her of being autistic, unlimitedly authoritarian and of disregarding the people after the giant anti-government pot-banging protest, 8N, on Thursday, while the administration vowed to steer the course and not to fall into "rightwing" provocation.
Teamster Hugo Moyano, the head of the opposition faction of the CGT, said the President "lives in a kind of bubble that doesn't allow her to see reality. The men who should advise her don't make her see reality. Things are not the way they say they are, or the way they make her believe they are.
"We are protesting against the government's despiteful way to address demands," Moyano, a former ally of Nestor Kirchner and Cristina Fernández, said in remarks to a local Buenos Aires radio.
Moyano confirmed that on Tuesday he and other union sectors would decide to call a national strike for November 20 "so that the government listens to workers' demands".
The strike is being coordinated with Pablo Micheli, the head of the opposition faction of the smaller CTA.
Buenos Aires City Mayor Mauricio Macri and head of the opposition PRO referred to the speech after the 8N pot-banging protest, and released a photograph of the demonstration.
"So the most important thing last Thursday was the Communist Party Summit in China?" Macri stated ironically.
The city mayor published in his Facebook account a photograph of the protest, accompanied by this ironic phrase about the speech of the Head of State. Macri stated this after Cristina Fernández criticized the demonstrators, who she accused - without mentioning them - of "having a distorted vision of the country."
"(On Thursday) a big thing happened: A new president was elected in China" said the president after the massive protest.
Cristina Fernández was first elected President in 2007 and last year was re-elected with 54% percent of the votes. Many demonstrators protested against alleged plans to reform the Constitution to allow the president to be re-elected again in 2015.
Hipólito Solari Yrigoyen, the chairman of the Radical National Convention, the main opposition party's leading ruling body, said: "The authoritarianism of the President has no limits. The government's official policy is to believe that they are the nation and that the rest of the people do no exist." He also said that the government "lies" when it says that the Radical party lacks proposals.
The government meanwhile, said that it will not bow to "rightwing pressures." Gustavo López, the Presidency's deputy secretary general, said: "We don't have to fall into provocation. We must be smart. The only thing we cannot do is to bow to right-wing pressures".
Cristina Fernandez also accused the opposition of not having the necessary political leadership to present and support an alternative model to the one she and her deceased husband, Nestor Kirchner, have been implementing since 2003.