National holiday record breaking in Argentina: 19 in 2012; at least 17 next year
Wednesday, November 14th 2012 - 07:03 UTC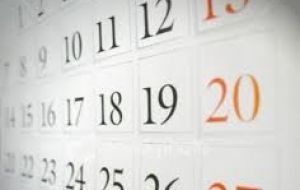 Argentines are known to be quite a stress-prone bunch, when not neurotic, but the annual calendar of national and one-time holidays gives a different picture: 19 this year and at least 17 in 2013.
President Cristina Fernandez and Congress seem to agree that to make the most out of national holidays, bridge or sandwich days are also included so that Argentines can enjoy longer weekends and obviously promote the domestic tourism industry, since getting hold of foreign currency to try and enjoy leisure overseas means an additional cost of 35% to 40%.
Next New Year begins on a Tuesday, so Monday 'sandwich' is included thus Argentines will have four long summer days to greet the incoming 2013.
In February, Carnival is celebrated Monday and Tuesday, February 11 and 12 so the month will also hold a four-day long weekend.
However there could be an additional only-day at the end of January, 31st, to celebrate the 200 years of the 1813 Constituting General Assembly. It still has to be voted in Congress.
In March/April the long weekend will have five days, from 29 March to 3 April, which includes Holy Friday plus Tuesday 2 April, Malvinas Veterans Day which means April first becomes a Monday 'sandwich or bridge' holiday.
This is followed with Labour Day, May first on a Wednesday.
May 25, May Revolution Day, a pity because it will be Saturday and it is considered a non-moveable national holiday.
Something similar on 20 June, Day of the Flag, but since it is celebrated on Thursday Argentines can take off Friday for another four-day weekend.
Independence Day is 9 July on a Tuesday.
The calendar then jumps to 8 December, the Immaculate Conception Day, on a Sunday and Christmas, December 25 on a Wednesday.
However in an effort another three holidays can be moved to a Monday so as to make them three-day long weekends: Monday 19 August, originally the 17th and which recalls the death of national liberator Jose de San Martin.
Monday October 14, originally October 12, known as Columbus Day, but now dedicated to the Different Peoples and Races of America.
And Monday 25 November, National Sovereignty Day, which is really celebrated on the 20th.
To these national holidays must be added community days, those specific for the Jewish and Islam religion festivities, and the Armenian holocaust, 24 April.
This year's 19 holidays makes Argentina the leader in Latin America followed closely by Colombia with 18. Bolivia, Mexico and Peru figure with 15 and at the other end is 'Carnival wild' Brazil with only 6 days.
When Cristina Fernandez first took office in 2007, the number of national holidays was twelve, which basically remain as such but with the additional 'sandwich or bridges" that help make long weekends.
The proliferation of long weekends is seen as a great boost for the Argentine tourism industry. So fat this year 9.5 million Argentines travelled inside the country representing 1.6bn dollars for the industry which employs and estimated one million people and is equivalent to seven points of GDP, according to official stats.
"Weekend tourism is an activity with a great spill-over effect. It props all the economies of big and small cities and towns", points out Oscar Ghezzi, president of the Argentine Chamber of Tourism.
However no stats have been released on the impact of these long weekends on manufacturing or for retailing in the big cities. .