Petrobras strikes oil and gas in extreme south of Argentina at the Springhill field
Wednesday, November 14th 2012 - 07:08 UTC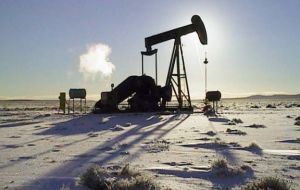 Petrobras Argentina reported this week that it made a new oil- and gas-field in the northern area of the Puesto Peter franchise, which is located in the Patagonia province of Santa Cruz.
The oil discovery, which is the second this year made by Petrobras in that region, was made at the Springhill formation at a depth of 3,255 metres and took place during the perforation process of exploratory well Estancia Campos.x-1, which is located around 140 kilometres northwest of the city of Río Gallegos.
A news release issued by the oil giant said: "Preliminary results of tests undertaken indicate the presence of gas and oil, the latter measured at approximately 57 degrees API gravity, with the discovery's reserve estimates measured at around 11 million barrels of oil."
Estancia Campos is the second discovery within the Puesto Peter franchise, which already possess another oil-field in the central and southern areas in that basin.
Campos produces 78 cubic metres of oil a day and 240,000 cubic metres of gas from the Magallanes basin from a depth of 1,800 metres.
Petrobras Argentina operates the Temporary Businesses Union (UTE) in order to exploit oil and gas from franchises which is also formed by Compañía General de Combustibles SA, holding 71% and 29% respectively.
This is the second discovery confirmed this year by Petrobras in the province of Santa Cruz given that in June, the oil giant confirmed successful discoveries in La Cancha x-1 well located in the Agua Fresca franchise, which has reserves estimated at six million barrels.