IMF remembers Argentina that on 17 Dec it will assess quality of official stats
Thursday, November 15th 2012 - 23:05 UTC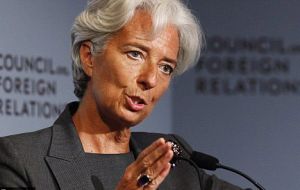 The International Monetary Fund ratified on Thursday that "on December 17" it will assess the "quality of Argentine statistics, particularly those referred to inflation", an issue over which it had already warned the administration of President Cristina Fernandez.
Deputy spokesperson William Murray said that in "less than a month" the 24 members of the IMF Executive Board will be meeting to consider the issue. Last September 24 the IMF Managing Director Christine Lagarde warned Argentina about a "red card" (expulsion) because of the quality of its inflation and growth stats.
Lagarde statements followed a meeting of the IMF Executive board which conceded Argentina another 90 days to adjust the government stats office Indec to parameters acceptable and compatible with the IMF.
On September 25, President Cristina Fernandez addressing the UN General Assembly replied to the 'red card' football jargon saying Argentina was not a soccer team "it's a sovereign country and accepts no threats or pressures" and in the game of comparing football with economics and politics, "let me say that the president of FIFA has been far more successful and satisfactory than that of the IMF Executive board".
At the end of 2010 and in the first quarter of 2011 and on request the IMF sent two technical assistance missions to elaborate a report for the improvement of the Argentine inflation index at national level. However the report was never implemented and since then the IMF is requesting Argentine to modify its methodology.
In related news Indec announced on Wednesday October's official inflation rate, 0.8% cooling slightly from September's 0.9%. In the twelve months to October inflation totalled 10.2%.
According to Indec October's consumer inflation was driven by a 2.2% increase in the price of clothing and a 1.4% rise in the cost of household goods and equipment. Prices in the heavily weighted food-and-beverage category rose 0.9% last month.
However these percentages differ dramatically from the so-called Argentine Congress Index, based in the analysis of nine private agencies, which showed a 1.82% increase in October and 24.62% in the last twelve months.
Private agencies are exposed to heavy fines from the Domestic Trade Ministry if they make public their inflation estimates so that is why they channel their information through the Lower House Freedom of Information Committee with the help of members of the opposition.
The Congress index is not official but uses as reference by trade unions, businesses and the Judiciary.