BP pleads guilty to Gulf of Mexico spill and will pay a record 4.5bn
Friday, November 16th 2012 - 00:42 UTC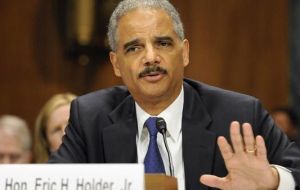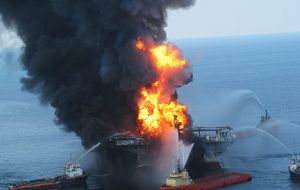 BP Plc agreed on Thursday to plead guilty to a raft of charges in the deadly Gulf of Mexico spill and pay a record 4.5 billion dollars including the biggest criminal fine in United States history. Three BP employees were also charged, two of them with manslaughter.
The settlement with the federal government came two and half years after the fiery drilling-rig explosion that killed 11 workers and set off the US largest offshore oil spill.
In announcing the deal, Assistant Attorney General Lanny Breuer said the tragedy "resulted from BP's culture of privileging profit over prudence". BP will plead guilty to charges involving the 11 deaths and lying to Congress about how much oil was spewing from the blown-out well.
"We believe this resolution is in the best interest of BP and its shareholders" said Carl-Henric Svanberg, BP chairman. "It removes two significant legal risks and allows us to vigorously defend the company against the remaining civil claims."
The settlement appears to be easily affordable for BP, which made a record 25.8 billion in profits last year. And it will have five years to pay. But the oil giant still faces several billion dollars in additional claims for damage to people's livelihoods and the environment.
Separately, BP rig workers Robert Kaluza and Donald Vidrine were indicted on federal charges of manslaughter and involuntary manslaughter, accused of repeatedly disregarding abnormal high-pressure readings that should have been glaring indications of trouble just before the blow-out.
In addition, David Rainey, BP's former vice president of exploration for the Gulf of Mexico, was charged with obstruction of Congress and making false statements. Prosecutors said he withheld information that more oil was gushing from the well than he let on.
Rainey's lawyers said he did "absolutely nothing wrong." And attorneys for the two rig workers accused the Justice Department of making scapegoats out of them. Both men are still with BP.
"Bob was not an executive or high-level BP official. He was a dedicated rig worker who mourns his fallen co-workers every day," Kaluza attorneys Shaun Clarke and David Gerger said in a statement. "No one should take any satisfaction in this indictment of an innocent man. This is not justice."
The settlement, which is subject to approval by a federal judge, includes payments of nearly 2.4 billion to the US National Fish and Wildlife Foundation, 350 million to the US National Academy of Sciences and about 500 million to the US Securities and Exchange Commission, which accused BP of misleading investors by low-balling the amount of crude that was spilling. It also includes nearly 1.3 billion in fines.
"This marks the largest single criminal fine and the largest total criminal resolution in the history of the United States," Attorney General Eric Holder said at a news conference in New Orleans. He said much of the money will be used to restore the Gulf.
Holder said the criminal investigation is still going on. Before Thursday, the only person charged in the disaster was a former BP engineer who was arrested in April on obstruction of justice charges, accused of deleting text messages about the company's handling of the spill.
The largest previous corporate criminal penalty assessed by the Justice Department was a 1.2 billion fine against drug maker Pfizer in 2009.