Rajoy would have liked Cristina Fernandez to have attended the summit
Friday, November 16th 2012 - 06:11 UTC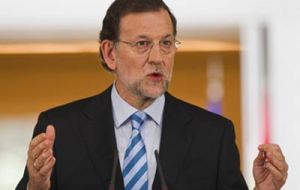 Spanish President Mariano Rajoy stated that he "would have liked" his Argentine counterpart, President Cristina Fernández to have attended the XXIIth Ibero-American summit, starting Friday in Cádiz.
In an interview published by Argentine daily La Nación, Rajoy revealed that the President had called him to state that she would not be attending, adding "it seems that there are health reasons, although these were not entirely clear to me."
It was announced earlier this week that Cristina Fernández would not be attending following a recent bout of hypotension, and the Spanish leader said that her absence "is not an obstacle for us as we try to ensure that relations are as positive as possible between two countries that have a lot in common."
However, in this context Rajoy described the nationalization of Spanish company Repsol's majority share in YPF by the Argentine government in April this year as "not the right decision."
"As everybody knows, the Argentine decision on YPF satisfied neither us nor anyone around the world. This is perfectly understandable, and needs no further explanation," said the Spanish prime minister in the interview.
"I would like the situation to be reverted and that things could be discussed, that a dialogue could exist, and I would also like a solution. This decision has not been correct, from our point of view, and has not received support from anyone, anywhere," said Rajoy.
"Our government defends Spain and her interests in the way it thinks is best. From that starting point, we take decisions to solve problems. For that reason, we don't make statements nor will we ask for anybody's head," said the Spanish president, adding that "I do not think that Argentina has helped this situation at all."
Media sources reported that the phone call was conducted with a tone of "great cordiality", although it was not clarified if this was the first conversation between the two leaders since YPF was taken over by the Argentine government.
Besides Cristina Fernandez, Venezuela's Hugo Chavez will also be absent because of health reasons and so will Uruguay's Jose Mujica, whose medical team, at last moment strongly discouraged the long flying hours because of a possible thrombosis.
The others are Otto Perez Molina from Guatemala trying to recover from a deadly earthquake; Cuba'a Raul Castro facing the destruction left by hurricane Sandy and finally Paraguay's Federico Franco.
In this last case, President Franco was not invited on suggestion from Unasur and Mercosur members who threatened not to attend if Franco participated. Paraguay is suspended from the two regional groupings following the removal in an impeachment process by the Senate of Fernando Lugo.
The removal process was according to the rules but Mercosur and Unasur described the removal of the former bishop a rupture of the democratic process.