UK opens new embassy in El Salvador to increase engagement with Latam
Friday, November 16th 2012 - 04:12 UTC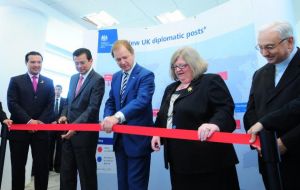 The United Kingdom will continue to increase engagement with Latin America pledged Foreign Office Minister Hugo Swire during the official opening Thursday of the UK new embassy in El Salvador.
"Coming to El Salvador has made me realise the real desire there is here to learn more about the UK and to engage with us. The same desire exists across the Atlantic, where the Foreign Secretary and I continue to work to increase our engagement with Latin America. We have been away too long and this much-overdue Embassy signals just how serious we are about expanding in the region", said Minister Swire.
"Now we are fully established and up and running, I look forward to hearing from our staff first-hand about new opportunities, and about the ways the UK can work further with El Salvador on issues of mutual interest."
The decision to re-open an Embassy in El Salvador was made in May 2011. This followed a shift in UK policy on Latin America, summed up by the Foreign Secretary William Hague's 2010 Canning House speech where he said that the UK had not devoted enough attention to the region.
Minister Swire was joined by new Ambassador Linda Cross and Salvador authorities when he toured the new premises and met staff who will be working a the embassy.
The UK's previous Embassy was closed in 2003, with other posts in the region acting as representatives of the UK Government until now.
The Embassy will focus on bilateral diplomacy, trade and investment, environmental issues, human rights and security. We already have an excellent relationship with El Salvador through the British Embassy in Guatemala City. But we are excited about the opportunities that the new Embassy will create to work much more closely with the El Salvador Government, business community, civil society and media.
Minister Swire said that El Salvador is located in a region of economic growth and development, and is currently the largest economy where the UK does not have a sovereign post.
"We see particular opportunities for promoting sustainable economic growth and clean energy; enhancing trade and investment between the UK and El Salvador; and supporting British businesses operating in El Salvador and Salvadorian businesses operating in the UK, through our new 'UK Trade in El Salvador' (UK TiES) group", he added.
The UK also attaches great importance to Central America's efforts to tackle violence, insecurity and organised crime in the region. "The new Embassy will have a strong focus on security issues, and hopes to work closely on them with SICA's headquarters in San Salvador. The UK has recently joined the 'Friends of SICA'". (Central America Integration System).