Planning for when the 2016 airport, St Helena after closer links with Faklands
Saturday, November 17th 2012 - 06:12 UTC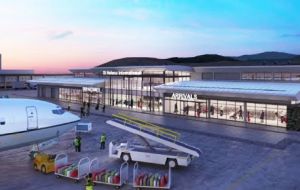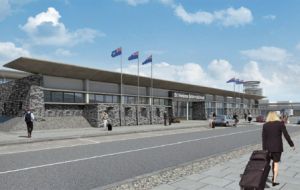 A top official from St Helena will be visiting the Falkland Islands next month to explore ways that the governments of the two British Overseas Territories can collaborate and looking ahead to when the mid Atlantic volcanic island will have an international airport.
Chief Executive for Economic Development for St Helena and former General Manager of the Falklands Development Corporation, Julian Morris will spend four days in the Islands with meetings scheduled from 3 December to and including Thursday 6 December.
A milestone in St Helena history is taking place currently with the construction of an airport which is contracted to open in February 2016 definitively putting an end to its centuries' isolation be it not for a monthly sea link with South Africa.
It is envisaged that the airport will lead to greater developments with tourism, fisheries and in the wider economy.
Mr Morris will hold formal and informal briefings with Members of the Legislative Assembly, senior officials and members of the public about St Helena developments.
A number of presentations are scheduled including a presentation at the Chamber of Commerce Monday 3rd December, a public update on Tuesday 4th December and a MPA update on Wednesday 5th December.
Mr Morris will also inform Falklands businesses about investment opportunities on St Helena and explore ways that the Governments of the Falkland Islands and St Helena can collaborate.
Last 3 November marked one year since the start of the St Helena airport which is expected to transform the economy of the island at the most exciting and important period of St Helena history for over 150 years.
The airport project Director Janet Lawrence said that construction is on budget and specifications which includes the completion of the temporary jetty as well as a temporary fuel storage facility and work has begun on the haul road to Prosperous Bay Plain.
The Falklands and St Helena have close relations going back to the South Atlantic conflict when many St Helenians were contracted to help with reconstruction after the war and some stayed on, married locals and became part of the community.
Falklands' fishing companies are also involved in St Helena, and with the opening of the airport links are expected to become closer and more intense.