EU on collision course over long-term trillion Euro budget
Monday, November 19th 2012 - 11:50 UTC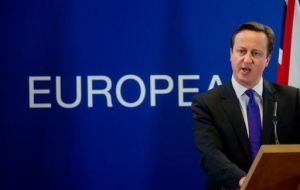 European Union looks set for a new round of clashes this week as an extraordinary summit called to agree a long-term trillion-Euro budget heads for an ugly showdown, possibly even failure.
Already weakened by three years of economic crisis, the 27-nation bloc of half a billion people faces new battle at the two-day summit starting Thursday after weeks of talks that have exposed stark divisions between pro and anti austerity nations, as well as between the haves and have-nots.
"It's a lose/lose summit," said a senior EU diplomat. "Absolutely no one will leave this summit content if by chance we reach a solution".

"We don't exclude a breakdown" told the media on condition of anonymity.
Europe's leaders begin the talks on the EU next seven-year budget on Thursday, with Britain's premier David Cameron in the role of leading spoiler though most governments are putting national interest well above shared concerns.
"Cameron will come with a big knife to get spending cuts and to defend the British rebate," said an EU diplomat.
In the face of Britain's austerity-minded determination to secure a cut of up to 200 billion Euros in the 2014-2020 budget, EU President Herman Van Rompuy, who will broker the talks, last week suggested a 75-billion-Euro cut to the proposed 1.047-trillion-Euro budget.
But that made no one happy. Spain said it would lose 20 billion Euros of EU aid, Italy complained of losing 10 billion Euros.
The three are among the 11 net contributors to the EU budget who in times of economic strain and domestic cutbacks are tired of bearing the brunt of the financial burden.
Eight of the net contributors — Austria, Britain, Denmark, France, Finland, Germany, the Netherlands and Sweden — have banded together to demand spending cuts, though they are far from being on the same page on what should go or by how much.
France for instance, along with Italy, is refusing any decreases whatsoever in the budget's biggest item: subsidies paid to farmers, big and small.
"There can be no question of withdrawing even 1 Euro from the Common Agricultural Policy (CAP)," said French Premier Jean-Marc Ayrault, whose government is pushing for the EU to raise new revenues through new taxes, such as one on financial transactions.
In the other corner are 15 nations from Europe's east and southern fringe who are net recipients, most often of the so-called "cohesion funds" used to help poor regions catch up economically and socially with the rest. This is the second biggest budget item after the CAP.
Chaired by Poland and Portugal, the group includes Bulgaria, Czech Republic, Estonia, Greece, Hungary, Latvia, Lithuania, Malta, Romania, Slovakia, Slovenia — and most recently, once mighty Spain.
Cameron, who is under intense Euro sceptic pressure among his Conservative party to wrest an agreement in Brussels, has been shuttling back and forth to raise support, travelling to the Netherlands, Italy and Germany in search of allies.
Chancellor Angela Merkel of Germany, which is the biggest contributor to the EU budget, has promised to do her utmost to ensure the summit would not end in collapse.
"Even if we are net contributors and people could perhaps think that we can live with a non-agreement, that is not our goal," Merkel said. "We want an agreement and we will talk exactly in this spirit with all countries".