Repsol wants fair compensation from Argentina; will appeal to all legal resources
Tuesday, November 20th 2012 - 00:46 UTC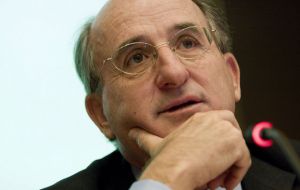 Repsol Chairman Antonio Brufau has expressed his determination to reach a solution on compensation for the nationalisation of its shares in YPF, and says that he is willing to take the matter to an international court level to ensure a fair amount is paid.
In his first interview since President Cristina Fernández decreed the appropriation of YPF in April, Brufau told Spanish daily El País on November 17 that he still believes and hopes for an agreement through dialogue "to compensate us for that which belonged to us."
Repsol sued Argentina in May through a US court as part of an effort to recover more than 10 billion dollars from the country after President Cristina Fernandez seized control of YPF, accusing Repsol of not investing enough and inducing an over reliance on expensive imports.
When asked about his optimism over receiving compensation, Brufau replied: "I am more of a realist; we will use all possible judicial mechanisms if necessary."
The Repsol CEO also emphasized that the conflict is "not good for Repsol, but even worse for Argentina," referring to the prospects of direct foreign investment.
Brufau also pointed to the discovery of the Vaca Muerta shale oilfield as the catalyst for the sudden deterioration of relations between Repsol and the government, relations which he described as excellent "up to 2011."
He said that Repsol would have been willing to discuss Argentine interests in the oilfield, but instead "something so positive became a trigger for nationalisation."
Brufau also revealed his company would seek arbitration at the World Bank's International Centre for Settlement of Investment Disputes (ICSID), as the required period of six months has passed from the nationalisation for the ICSID to consider arbitration in the dispute between the two parties.
"We will go to the ICSID when we see best, but we can withdraw the request if an agreement is reached".
Spain's Foreign Minister José María García stated last week on Spanish television that there "are conversations between the Argentine and Spanish governments about the matter every single day."
The interview came as the Ibero-American Summit ended in Cádiz (Spain), with the noticeable absence of President Cristina Fernández, who opted to send Vice-President Amado Boudou in her place.