Brazil increases gold holdings to 52.5 tons, according to the IMF
Wednesday, November 21st 2012 - 20:07 UTC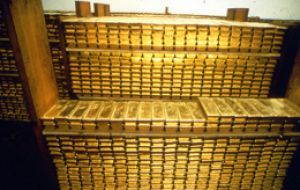 Brazil increased gold reserves for a second month in October to the highest level in more than 11 years as emerging nations from Kazakhstan to Russia boosted holdings by more than 40 metric tons.
Brazil's holdings expanded 17.2 tons last month to 52.5 tons, the most since January 2001, according to data on the International Monetary Fund's website. The country's 1.7-ton purchase in September was the first since December 2008. Kazakhstan's holdings increased 7.5 tons, Russia added 0.4 ton and Turkey's reserves rose 17.5 tons, the data show. Germany, the second-biggest holder, after the US, cut gold holdings by 4.2 tons, the first reduction since June.
Central banks have been expanding reserves as the metal heads for a 12th straight annual gain. Nations bought 373.9 tons in the first nine months of the year and full-year additions will probably be in the "bottom end" of 450 to 500 tons, the London-based World Gold Council estimates.
Germany holds 3,391.4 tons, the IMF data show. The Bundesbank declined to comment on the past month's gold reserves, spokeswoman Susanne Kreutzer said, adding that the central bank reserves 7 tons a year to sell to the Finance Ministry for minting. The year started on Sept. 27, she said. The Bundesbank sold about 0.7 ton to the Finance ministry in June and 4.7 tons in October 2011 to mint commemorative coins.
Turkey's bullion holdings have increased due to it accepting gold in its reserve requirements from commercial banks. Belarus expanded holdings by 0.1 ton in October and Mexico reduced them by 0.2 ton, the IMF data show.
Gold accounts for about 0.5% of Brazil's total reserves and 20% of Kazakhstan's, according to the World Gold Council. That compares with more than 70% for the US and Germany, the biggest bullion holders, the data showed.
Central banks buying of gold have been a major support to gold prices, which hit record highs a year ago and are still holding above 1.700 dollars an ounce, more than double their level of five years ago.