Argentina wheat forecast down because of flooding in key parts of farm belt
Friday, November 23rd 2012 - 13:10 UTC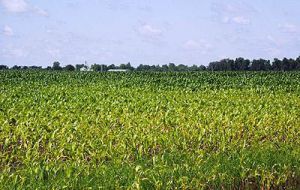 Argentina's government cut this season's wheat output forecast, citing three months of heavy rains that started in August and flooded key parts of the Pampas farm belt, the Agriculture Ministry said on Thursday.
The estimate is now 11.1 million tons of wheat in the 2012/13 crop year, down from the government's previous forecast of 11.5 million tons, the ministry said in its monthly crop report.
"Yields, up to this point, are low" it said, going on to explain that soggy Pampas' conditions have made wheat plants more vulnerable than usual to pests and fungi-based diseases.
Corn planting area was also marked down to 4.7 million hectares from a previous estimate of 4.97 million, while the country's projected soybean area was kept at 19.35 million hectares.
The Argentine government says the country can produce 55 million to 58 million tons of soybeans this crop year if the weather cooperates.
Rain patterns have normalized in recent weeks after an unusually heavy three-month spate of showers starting in August. But farmers warn that flooding in breadbasket province Buenos Aires will reduce yields compared with early-season estimates.
After what some climate specialists described as an early arrival of the El Niño effect this year, which tends to bring rain to Argentina, Uruguay and southern Brazil, farmers saw their 2012/13 corn and soy planting equipment bog down in mushy top soils.
A recent string of sunny days has helped some growers get sowing back on track. Argentina is the world's No. 3 soybean exporter and second corn supplier after the United States.
The US Department of Agriculture expects Argentina to harvest 55 million tons of soy, 11.5 million tons of wheat and 28 million tons of corn in the current 2012/13 crop year.
Also on Thursday the Buenos Aires Grains Exchange said 36.6% of the 19.7 million hectares it forecasts for soy planting had been sown by Thursday. This marked an advance of 14.6 percentage points during the week while lagging last season's seeding tempo by 9.7 percentage points.
Half of the 3.4 million hectares that the exchange expects to be planted with 2012/13 corn had been sown by Thursday, it said in its weekly crop report, marking progress during the week of 5 percentage points and lagging 2011/12's tempo by 12 points.
"The showers that have continued up to the present in the central part of the country are complicating the seeding process in central and western Buenos Aires province" the report concludes.