OAS will send more than 50 international observers to Paraguay's election
Saturday, November 24th 2012 - 04:25 UTC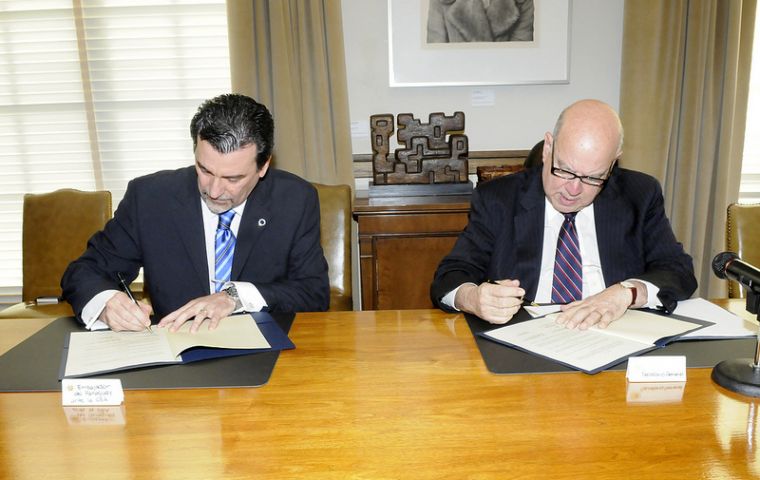 The Organization of American States (OAS) and Paraguay signed an agreement this week to send observers to the April 2013 elections. OAS contrary to Unasur and Mercosur did not describe Paraguay political events of last June as "a rupture of the democratic process" or a congressional coup and has been supportive of the country.
The agreement signed by OAS Secretary General Jose Miguel Insulza and Paraguay's representative Martín Sannemann refers to the Privileges and Immunities of Observers and conditions for the work of the Electoral Observation Mission (EOM) which will accompany the general and departmental elections in the country on April 21, 2013.
Secretary General Insulza expressed his satisfaction at the signing of the document and said that: "These elections take place at an important time for both Paraguayan democracy and democracy in the region. The elections will be watched carefully throughout the hemisphere" said the Secretary General, and therefore "the Electoral Observation Mission begins its work earlier than usual".
The mission will be led by former President of Costa Rica and Nobel Peace Prize Winner, Óscar Arias, who will begin his work in the coming days.
"I assign a great deal of importance to this Mission from the point of view of the possibilities of starting a dialogue, talks with all political forces, to speak very clearly not only about the present but about the future of democracy in Paraguay" said Insulza.
The OAS/EOM will include specialists in organizing elections, legislation, media, political analysis and logistics, among other areas, said the Secretary General, and added the Mission planned the deployment of 17 departmental coordinators and more than 50 international observers in all the departments of Paraguay.
The Secretary General concluded by noting that "we are confident that in the April election, and the subsequent installation of a new, democratically elected government, Paraguay will strengthen substantially its democracy."
At the ceremony, Ambassador Sannemann said the signing of the Agreement represents the "serious, responsible and coherent gesture by the Organization of American States to participate in the electoral process." He quoted the words of the President of his country, Federico Franco, who said "the participation and construction of this process is fundamental."
"We as a country are open to the observation of the entire electoral process by all institutions that are serious, and above all responsible," said Ambassador Sanneman, "and among these responsible and serious institutions, the Organization of American States is foremost."