Bolivian plans to belong to CAN and Mercosur face several hurdles
Monday, November 26th 2012 - 22:57 UTC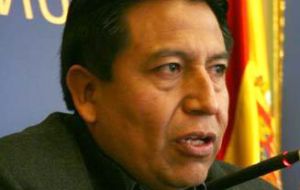 Foreign minister David Choquehuanca argued that Bolivia can become a full member of Mercosur and continue with the Community of Andean Nations, CAN, and can't be forced to abandon a block to join another.
"You can be at the same time in CAN and Mercosur" said Choquehuanca underlining that his country is moved above all by an "integration spirit" since they also belong to the Unasur (Union of South American Nations) and Celac (Community of Latinamerican and Caribbean states).
"Bolivia can't be forced to abandon CAN to belong to another block, because times have changed" and he believes that CAN, made up also of Colombia, Ecuador and Peru can adequate norms and regulations so that Bolivia can be member of both.
"If we belong to CAN, Unasur and Celac, why can't we also belong to Mercosur?" asked the minister.
President Evo Morales will be attending the Mercosur summit next December 6/7 to be held in Brasilia. Mercosur has formally invited associate member Bolivia to become a full member.
However the soy bean farmers have warned that this year the Andean market will represent 950 million dollars and the access to Mercosur as full member could be unfavourable for the sector since they would have to compete with Brazil and Argentina.
Minister Choquehuanca said that if Mercosur leaders announce Bolivia's incorporation next December, a 270 day period takes off during which all the sensitive issues will be on the table together with claims from small farmers, peasants and businesspeople.
"We can't go blind into Mercosur, that is why the discussions. With Mercosur we are going to sit down and we will say: we want this deal, review documents and see how we can work keeping in mind the interests of Bolivians", said Choquehuanca.
He also mentioned that even if Bolivia wants to leave CAN, it will remain linked for the next five years through trade agreements as happened with Venezuela, which also signed an economic complementation accord with its former partners.
The Bolivian Foreign Trade Institute, ICBE, which advises business people and farmers, has warned that Mercosur established an "explicit condition" which means that any country belonging to a sub-regional group can't be part of the block as full member.
Besides, according to ICBE "technically it is incompatible that a country belongs to two different customs unions" and a new member must compulsorily adopt the Mercosur common external tariff, which means Bolivia will have to abandon the Andean group.
Previous to the Brasilia summit, experts from Bolivia will meet next Monday with their peers from Mercosur in Bolivia, according to the Bolivian Foreign Ministry head of Trade and Investment Agreements, Benjamín Blanco.