Spain rejects talks offer from ETA and demands dissolution without conditions
Monday, November 26th 2012 - 23:18 UTC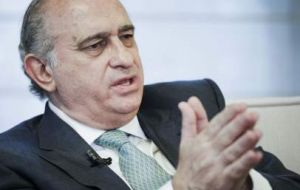 Spain's government rejected an offer of talks from armed Basque separatists ETA and demanded the group dissolve itself without conditions, after ETA called for negotiations on prisoners and a weapons handover.
The group said on Saturday it was ready to discuss disbanding with France and Spain if certain conditions are met in a statement published on a Basque news site.
The ETA which last year said it had abandoned violence after a four-decade campaign for an independent homeland that claimed more than 800 lives, said one outstanding issue was the transfer of Basque prisoners to jails closer to home.
It wanted to discuss "formulas and timetables" to bring home prisoners and Basque political exiles; disarmament and the break-up of its armed structures; and the demobilisation of ETA members. The statement ran on Naiz.info, the website of the Basque newspaper Gara.
"The only statement we expect and demand is for its unconditional dissolution," Interior Minister Jorge Fernandez Diaz told reporters on Sunday. "They know we have not negotiated and won't negotiate at all with a terrorist organisation."
ETA said in the statement successful talks on these areas "would bring about a definitive end of the armed conflict".
Until Saturday's statement, the group had refused to announce its dissolution and disarmament, as demanded by Spain and France. But weakened by a series of arrests in France and Spain in recent years, ETA said on Saturday it was ready to "listen to and analyse" proposals from Madrid and Paris.
The two governments would have a "precise knowledge" of its positions, it added. In its statement ETA said the process it was proposing would allow for "the end of the armed confrontation".
ETA has been placed on a list of terrorist organisations by the United States and the European Union and has been blamed for the deaths of 829 people. Its last attack on Spanish soil was in August 2009.