Brazil's low cost airline Gol cuts 850 jobs and returns 20 Boeing 737-300
Tuesday, November 27th 2012 - 04:41 UTC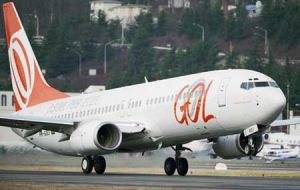 Brazil's low-cost airline Gol announced that it is eliminating the WebJet brand, the rival airline that it took over earlier this year, cutting 850 jobs and reducing domestic capacity in the process.
Gol, which initially announced plans to take over WebJet in July 2011, received regulatory approval for the merger last month. After a study of possible cost reductions at the merged companies, Gol decided to return 20 of WebJet's Boeing 737-300 aircraft by the end of the first half of next year. The reduction of the company's fleet will also result in 850 job cuts, with pilots, air stewards and maintenance personnel among those set to be eliminated.
"The WebJet fleet of 737-300 was shown to be economically unfeasible for the domestic market due to high fuel costs and the weaker exchange rate raising maintenance costs even more in the past year" Chief Executive Paulo Kakinoff told reporters in a conference call.
The purchase of WebJet, which operates about 5% of flights in Brazil, helped Gol expand market share and gain expertise from another low-cost airline. The combined companies have a share of about 40% of domestic flights, which Gol expects to remain constant after the full integration of WebJet. But with the merger complete, Gol realized that maintenance of the WebJet brand would lead to higher costs.
Kakinoff said that the more modern 737-800 planes that Gol flies use 30% less fuel than WebJet's 737-300 planes, which should help lower costs at the company. Currently, fuel accounts for 46% of Gol's costs, and that should fall with the phasing out of the 737-300s, Kakinoff added.
The elimination of the planes will reduce available seat kilometers, or ASK, a measure of supply, on domestic flights by 5% to 8% in the first half of next year, Kakinoff said.
"That's in line with the movement in the industry as a whole, which is rationalizing supply after significantly negative operating results," he said. Gol has accumulated losses of more than 1 billion Brazilian Reais (473 million dollars) this year after rapid expansion led to falling profitability. Bigger rival Tam, which was taken over by Chile's Lan to form Latam Airlines Group said it will cut domestic supply 7% in the first half of 2013.
However, smaller carriers such as Azul, Brazil's third-biggest airline after Tam and Gol, have been adding capacity. Azul, the regional carrier started by JetBlue founder David Neeleman, expects revenue to grow 25% next year as it offers more flights to smaller cities not served by the leading carriers.