Brazil's oil windfall distribution debate takes off in the streets of Rio do Janeiro
Tuesday, November 27th 2012 - 20:40 UTC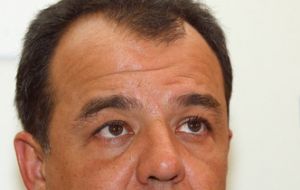 Thousands of people took to the streets in Rio do Janeiro on Monday to urge Brazilian President Dilma Rousseff to veto a bill that local officials say could cost Rio state billions of dollars in lost oil revenue, and cripple plans to host the World Cup and Olympics.
For Rousseff, the protest raises the stakes on what may be the most sensitive decision she has faced in her nearly two-year-old government: how to distribute tens of billions of dollars in expected revenue from a massive offshore oil find discovered in 2007.
A bill passed by Congress this month would spread the windfall more evenly between Brazil's 26 states and federal districts. But it would also alter royalties on existing production, angering Rio and other south-eastern states where most of Brazil's oil is located. Rousseff has until Friday to veto the bill.
In recent days, state officials have plastered streets and buildings with banners advertising the protest in large black and white lettering and a command in red for the president: "Veto, Dilma".
Rio is spending tens of billions of dollars building stadiums and other infrastructure for football's World Cup in 2014 and the 2016 Summer Olympics, two events expected to attract hundreds of thousands of visitors.
Rio Governor Sergio Cabral, a key ally of the president, is leading the protest. He has cast the debate in dire language that analysts say may exaggerate the financial stakes but has nonetheless intensified political pressure on Rousseff.
"This bill will cause the financial collapse of the state of Rio de Janeiro," Cabral warned earlier this month. "There would be no Olympics, no World Cup, no payments for retirees and pensioners."
Approving the bill could hurt Rousseff's relations with Cabral's PMDB party, a large flexible movement that is an essential ally of the broad coalition that supports her ruling Workers' Party.
Rousseff has vowed to further Brazil's efforts to reduce poverty, in part by redistributing the windfalls from its growing commodity exports: from oil and iron ore to foodstuffs.
But on Monday police had cordoned off large swathes of Rio's centre, along the river-like bay that gives the city its name. State and municipal officials were facilitating attendance by waiving subway and ferry fees and providing buses from far-flung towns outside the capital.