Investors holding restructured Argentine bonds also appealed Judge Griesa's ruling
Tuesday, November 27th 2012 - 04:52 UTC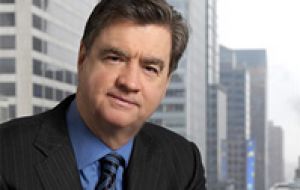 Investors holding 1 billion dollars worth of restructured Argentine debt said they also appealed to US District Judge Thomas Griesa's ruling that they fear would trigger another default and prevent them from being paid principal and interest due on their bonds next month.
Lower Manhattan Judge Griesa ordered late on Wednesday that Argentina immediately pay a separate group of holdout investors, who rejected two debt restructuring offers made in 2005 and 2010, the 1.33 billion in judgments they have won in court, a stinging blow to Argentina's efforts to overcome a 2002 debt crisis.
"Given Judge Griesa's obvious frustration with the Republic of Argentina, we expected this ruling. What we did not expect was the disregard of innocent Exchange Bond Holders' due process rights," said Sean O'Shea, a lawyer representing Gramercy, a group comprised by hedge fund investors that represent 93% of the total bondholders that agreed to Argentina's two debt swaps offered.
"We prepared an immediate appeal and motion to stay this ruling so that we may be heard in the 2nd Circuit Court of Appeals, and we hope the court to consider the ruling a mistake and suspend it", O'Shea said to reporters.
The holdout investors that Griesa ruled in favour are led by NML Capital, an affiliate of Elliott Management, and Aurelius Capital Management, both based in New York.
Griesa's order means Argentina must deposit the money into an escrow account by December 15, which protects both sides of the case pending a final decision by the US Second Circuit Court of Appeals.
At stake for all exchange bondholders is a potential technical default on approximately 24 billion worth of debt issued in the 2005 and 2010 exchanges. Principal and interest payments due those bondholders next month total over 3 billion.