MP questions lack of "Territory Status" for BOTs in Commonwealth future report
Wednesday, November 28th 2012 - 16:08 UTC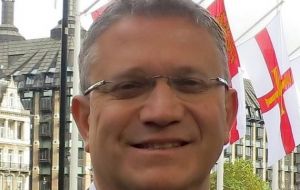 Conservative MP Andrew Rosindell has written to the London representatives of British Overseas Territories to alert them to what he sees as a shortfall in a new report on the future of the Commonwealth.
Mr Rosindell, who chairs the All Party Parliamentary Group on British Overseas Territories, said the report from the Foreign Affairs Committee failed to include a proposed amendment relating to the territories.
The amendment, tabled by Mr Rosindell himself, called for a "Territory Status" within the Commonwealth of Overseas Territories and Crown Dependencies.
The Foreign Affairs Committee found that there was "no evidence" that Overseas Territories wanted representation in the Commonwealth.
It did not therefore include the amendment into its report, which is entitled "Role and Future of the Commonwealth" and was published earlier this month.
"I feel that every Chief Minister and Premier should now write to the Chairman of the Foreign Affairs Committee to protest at this shameful failure to support our Overseas Territories participation within the Commonwealth and would like to hear your comments on this matter too," MP Rosindell said in his letter to the London representatives.
The MP said he would continue campaigning on this issue and would raise it in the House of Commons as soon as possible.