Excellent weather for "Seabourn Sojourn" on her Friday Falklands' call
Friday, November 30th 2012 - 20:07 UTC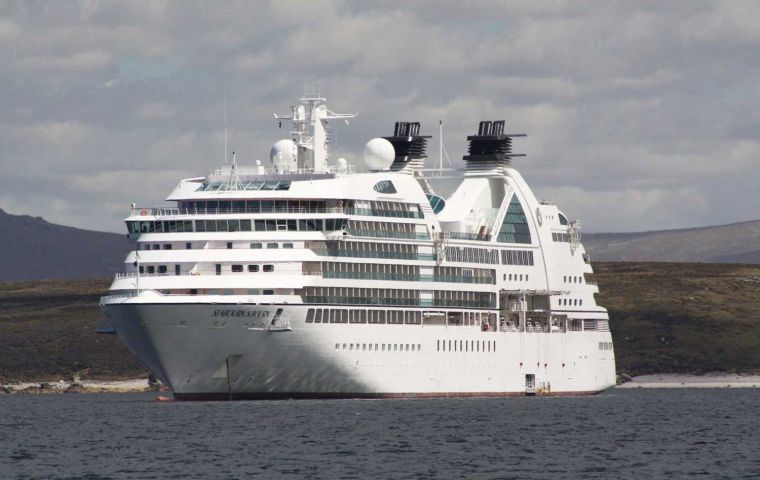 Despite claims by the Argentine media that the Bahamas flagged cruise vessel "Seabourn Sojourn" had no plans to visit Falklands the 431 passengers on board have enjoyed a wide range of tours around the Islands after they anchored in Port William, just outside of Stanley Harbour on Friday at 9am.
Vibrant blue skies and temperatures in excess of 15 degrees Celsius were enjoyed by passengers and shore staff as they explored the Islands. Tours were despatched to visit the Rockhopper penguin colonies, the Gentoo penguins at Bluff Cove Lagoon, the Kings at Volunteer Point and in and around Stanley a variety of nature, battlefield and town tours.
A spokesperson for the Falkland Islands Company Ltd, the agents for this particular cruise ship said everything had gone to schedule and as planned well in advance of the visit and the ship was expected to leave the Falklands again soon after 5pm. Friday.
A spokesperson for the Falkland Islands Tourist Board said he was happy to confirm that the "Seabourn Sojourn" had arrived as scheduled and her passengers had enjoyed a fine sunny day, adding: "We look forward to welcoming future planned visits."