Paraguay blasts Unasur summit decision confirming suspension until April 2013
Saturday, December 1st 2012 - 07:07 UTC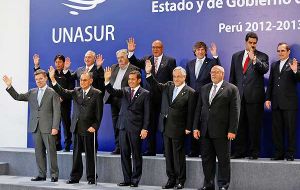 Paraguay complained bitterly Unasur (Union of South American Nations) decision to confirm the suspension of the country from the group until next April 2013 when elections are scheduled. The decision was described as a 'systematic persecution' and 'interventionism' of Paraguay, which is contrary to basic principles enshrined in the UN charter.
The Foreign ministry in a release late Friday recalls that the Unasur suspension of Paraguay from the group dated June 29 specifies no timetable and suggests this last decision could be the result of 'some secret instrument' which has not been made public.
Thus "since the suspension resolution does not specify a time limit, --be it for some sort of secret instrument--, Paraguay rejects and does not accept the Unasur summit decision which it considers illegal, illegitimate and juridical baseless".
This way "Unasur systematic persecution of Paraguay constitutes a new form of interventionism which contradicts the principles enshrined in the UN Charter and the norms and principles which rule peaceful relations among States. Such a measure does not have a juridical or moral base", emphasizes the Paraguayan release.
Finally faced with this situation, Paraguay has decided to discredit the Unasur observers' mission as participants and arbiters for the coming general election since they do comply with the necessary impartiality conditions.
Nevertheless Unasur can participate, if it wishes as guest of people or groups with which it has affinity and "who don't feel uncomfortable and even applaud the undermining of our national sovereignty".
Paraguay is particularly bitter because earlier in the week it received the visit from Unasur High Level Group head, Salomon Lerner who after holding a raft of meetings with different political and social groups as well as with the Electoral Tribunal of Justice said he was leaving with a 'positive attitude" and convinced the electoral process was "on the right track".
Given the strained relations between Paraguay and Unasur, the former Peruvian Prime Minister was not officially invited by the Paraguayan government but had no restrictions on his contacts which also included lawmakers from all parties and the Electoral Justice.
Lerner was responsible for the report on the political and electoral situation in Paraguay that was presented to Unasur leaders and Foreign ministers at the two-day summit in Lima which ended on Friday.
However Brazil's Executive advisor on foreign affairs Marco Aurelio Garcia had anticipated that the suspension would last until April 2013 elections, a position also shared by Argentina.
Finally it must be said that contrary to Unasur and Mercosur, the Organization of American States could not agree on imposing sanctions on Paraguay for the controversial removal last June of Fernando Lugo and his replacement by Federico Lugo following an impeachment by the Senate approved by an overwhelming majority.
Although the impeachment followed strictly the procedure established in the Paraguayan constitution, Unasur and Mercosur considered that there had been 'a rupture of the democratic process' and decided the suspension.
An OAS in situ fact finding mission did not arrive to that conclusion.