Parlatino ample support for Paraguayan Congress despite Argentina
Saturday, December 1st 2012 - 07:48 UTC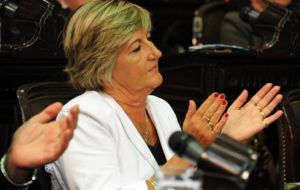 The Paraguayan congress was strongly supported at the Latinamerican Parliament, Parlatino, which during the XXVIII ordinary session voted against an Argentine motion to have it suspended.
With 98 votes against the motion, 60 in support and 26 abstentions the Argentine motion to suspend the Paraguayan congress was rejected at the floor of Parlatino currently meeting in Panama City.
The petition requesting the suspension of the Paraguayan congress had been presented by Argentina at the last session of Parlatino held at Cuenca, Ecuador in August and was based on the removal of Fernando Lugo last June and his replacement by Federico Franco following an impeachment by the Paraguayan Senate.
Unasur and Mercosur questioned the legitimacy of the impeachment and suspended Paraguay from both regional groups. The two groups described the events of last June as a 'democratic rupture' and suspended Paraguay until next April 2013 elections.
Following on the vote, the Parlatino table pointed out that since the two thirds needed to implement the suspension were not obtained, the suspension did not proceed, which came as a surprise both for the Paraguayans and the Argentines.
Paraguay lawmaker Justo Pastor Cardenas said that they were grateful for the support from the floor and celebrating the 'almost majority of two thirds' which backed their presence in Parlatino.
"This only comes to confirm that the process we have gone through in our country is legitimate, legal and supported not only by the Paraguayan people but also by the Parlatino" said lawmaker Pastor Cardenas.
However Argentine lawmaker from President Cristina Fernandez ruling majority 'Victory Front', Nancy Gonzalez was disappointed, "it's something unheard of, really unusual".
Gonzalez who sponsored the suspension motion said it was hard to understand "how countries which for years have suffered not having elections, are now supporting this Paraguayan government".
However she pointed out that it was never the intention of expelling Paraguay from the Parlatino, but rather suspended it until the return of a 'democratic situation' as has been implemented by Mercosur and Unasur.