Argentine ambassador summoned over 'intimidation' to cruise lines calling in Falklands
Monday, December 3rd 2012 - 21:17 UTC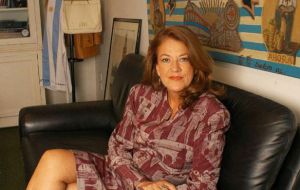 Britain summoned Argentina's ambassador to London on Monday after masked men ransacked the offices of a shipping company in Buenos Aires, a move the Foreign Office alleged was aimed at deterring ships from visiting the disputed Falkland Islands.
The Foreign Office said the shipping firm, agents for a cruise company, had been attacked on November 19, causing the cancellation of a planned visit to the islands some 482 km off Argentina's coast.
Argentine President Cristina Fernandez has launched a wide-ranging diplomatic offensive to try to assert Argentina's claim to the Islands 30 years after the Falklands war, angering Britain which says the Islanders want to continue to remain a largely autonomous British Overseas Territory Territory and are expected to ratify it for the world in a March referendum.
The Foreign Office, which labelled the shipping office incident a "violent act of intimidation", said it had summoned Alicia Castro, Argentina's envoy to London, after earlier invitations had been ignored.
A British official with knowledge of the matter said Britain was concerned it had not received assurances that British-linked firms would not be attacked again. The official said Britain was also worried the attackers may have had state backing.
"It is shameful that elements within a large country like Argentina should seek to strangle the economy of a small group of islands. Such action benefits nobody and only condemns those who lend it support," the Foreign Office said in a statement.
"We were disappointed that it was necessary formally to summon the ambassador into the Foreign Office. We made several attempts to arrange for a less formal meeting, each of which the Argentine embassy declined," the statement said.
The Argentine embassy was not immediately available for comment, but the British official said after the meeting that Castro had been "very cross" to have been summoned and that she had accused the Foreign Office of "wasting her time".
The British official said Britain believed Argentina had been contacting cruise companies and other firms to try to pressure them into not doing business with the Falkland Islands.
Cristina Fernandez has accused London of maintaining "colonial enclaves" and has demanded the two countries sit down to discuss the disputed Islands' sovereignty - a suggestion Britain has rejected.
Lawmakers in Buenos Aires province passed a bill in August banning ships involved in business activities off the Falkland Islands from mooring at its ports, part of Argentina's drive to discourage oil exploration in the area.
Argentina had already banned ships flying the Falklands flag from entering the country's ports. The regional Mercosur trade group backed the move.