Brazil 'trapped and isolated' in Mercosur, should try trade agreements with US, says former president
Monday, December 3rd 2012 - 05:11 UTC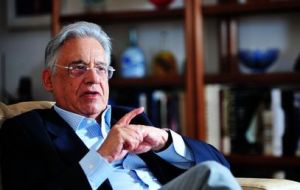 Former Brazilian president Fernando Henrique Cardoso said it was convenient to consider a trade integration with the Unites States given the very modest advances with Mercosur, where open trade has stalled or is far less than was expected when the original idea and is subjected to protectionist lobbies.
Cardoso who ruled Brazil from 1995 to 2002 and set the foundations for the current monetary and financial stability enjoyed by the country, said that "we were always afraid" of an integration with the US inside the Free Trade Association of the Americas, FTAA, a project strongly propped by Washington and the Clinton and Bush administrations and which encompassed all countries of the hemisphere with the exception of Cuba.
The former Brazilian president admitted with a strong quota of self criticism that for years "we cooked the idea with a very low fire and never actually moved to strengthen the idea of an FTAA". The project finally succumbed in November 2005 at the Summit of the Americas in Argentina, when Lula da Silva was Brazil's president.
At the Mar del Plat meeting, host president Nestor Kirchner and ally Hugo Chavez from Venezuela, together with the passivity of Brazil torpedoed the project and humiliated President Bush.
Looking back into history Cardoso asked, "maybe it's time we review the situation and think if we are not in better conditions to assess with more latitude and ask ourselves what do we win and what do we lose with an FTAA?"
"We finally didn't have a FTAA and after all we did not advance much" as was hoped but at the same time "we are trapped and isolated with Mercosur", said Cardoso who added that the path to follow is that of Chile with its 'globalization' model opened to the world and trade agreements with as many partners as possible.
Unfortunately "Mercosur instead of advancing towards an effective efficient liberalization became prisoner of a system dominated by protectionism, sometimes by Brazil, but most of the time by Argentina" and its industrialization plans with a trapped market of 40 million unexposed to a healthy competition and subject to the different lobbies.