Peru makes its case before the International Court; Chile: no surprises
Monday, December 3rd 2012 - 22:23 UTC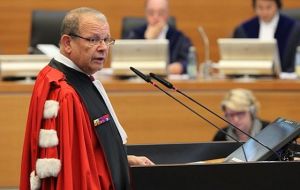 Peru asked the International Court of Justice Monday to set a maritime border with Chile in a case that could greatly expand the amount of rich seas under Peruvian control off the two Pacific neighbours' coasts.

The Peruvian delegation argued that a maritime boundary was never established and that two agreements which Chile claims set the border are non-binding and merely denoted some fishing zones. Chile insists the border was clearly set in treaties signed in 1952 and 1954.

Chile and Peru are among the world's top producers of fishmeal, and the waters off their coasts are an important source of income for both countries. If Peru wins, it could gain control over more than 38.000 square kilometres of ocean that Chile has controlled for the last 60 years.

Peru was presenting its arguments Monday and Tuesday. Chile will respond Thursday and Friday.

The Peruvian government's lawyer, Alain Pellet, told the court there is ''a flagrant lack of any maritime delimitation'' between the two countries and that Chile's proposed border ''radically cuts off Peru's access to the high seas''.

Pellet said Peru wants the 16-judge court to draw a line that will equally divide the sea off the two countries' coasts based on established international law. ''Peru asks neither more nor less than the laws of the sea grant to all coastal states,'' he said.

Peru and Bolivia waged a joint war against Chile from 1879-1884 and lost badly, with Chile seizing a chunk of southern Peru as well as Bolivia's entire coastline. Chile has long held that all border questions were resolved by several 20th century treaties.

Chilean President Sebastian Piñera last week said the long-awaited case in The Hague boils down to defending ''a cause that belongs to us all, such as defence of our oceans ... and our sovereignty.''

Chilean representative Maria Teresa Infante Caffi told reporters outside the courtroom that her country's standpoint was not changed by Peru's arguments.

''The central point for Chile is the existence and validity of the limits that were established through bilateral agreements between the two countries,'' she said.

But Peru's foreign minister, Rafael Roncagliolo, disagreed.

''No maritime boundary agreement exists between Peru and Chile and that was the heart of the presentations we made,'' he told reporters.

Roncagliolo stressed that in the 1980s ''Peru sought a negotiated solution and then formally sought a discussion with Chile again in 2004 but ''in the face of the impossibility of reaching a negotiated outcome we have turned to the court as a civilized and peaceful option.''

Chilean Foreign minister Alfredo Moreno praised the tone and manner in which the Peruvian delegates made their presentation despite the deep differences on the issue.

"I would like to underline the tone and manner in which this firs phase of the presentations has evolved despite the deep differences of both countries on the issue. This is the way which corresponds to a discussion between countries that share a future of peace, progress and integration", said Moreno. He added there were no surprises in Peru's arguments.

Over the weekend Chile and Peru's leaders urged their citizens to keep calm and avoid "exacerbated nationalism" ahead of Monday's international hearing.
Chile's President Sebastian Piñera spoke out against "exacerbated nationalism, which poisons the soul of the people," in a column published Sunday in Chilean newspaper El Mercurio.

"This dispute granted Chile and Peru an opportunity to renew our relationship and embrace together with conviction and courage the future agenda, which should be of friendship, cooperation, progress and peace," he said.