Aberdeen oil firm secures exploration licences on Iceland continental shelf
Tuesday, December 4th 2012 - 19:47 UTC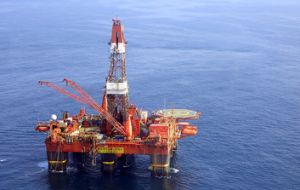 Aberdeen oil firm Faroe Petroleum has secured provisional exploration licences in the Dreki area on the Icelandic Continental Shelf. The company said the licences were "extensive", encompassing seven blocks located inside the Arctic Circle to the north east of Iceland.
Faroe said samples indicated the area had a working hydrocarbon system. It said it was "very excited to get the opportunity to explore and de-risk these prospects".
Experts have predicted the Arctic will be the next major oil producing region, with reserves of about 20 billion barrels of oil.
However Edinburgh explorer, Cairn Energy, has failed to make a commercial discovery of oil and gas after a major drilling campaign.
Graham Stewart, chief executive of Faroe Petroleum, said: "We are very pleased to announce our entry into Iceland's offshore, which represents an important extension of our frontier exploration portfolio in the UK west of Shetlands, Norwegian Sea and Norwegian Barents Sea.
"As with our Norwegian Barents Sea licences, this new Icelandic Jan Mayen Ridge licence has significant hydrocarbon potential, and is located in ice-free waters."
Faroe focuses mainly on exploration and production opportunities in the Atlantic Margin, the North Sea and Norway. It is currently awaiting the results of drilling operations at two UK exploration wells - one west of Shetland and the other in the UK North Sea.