Bolivia confirms willingness to become Mercosur full member at Friday's summit
Tuesday, December 4th 2012 - 03:12 UTC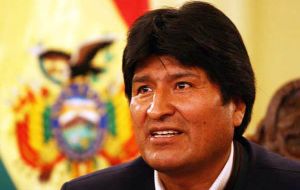 Bolivia will announce to its peers at the Mercosur summit in Brasilia, later this week that it is willing to adhere to the trade block as a full member, reported Amanda Dávila, Communications minister.
"The meeting in Brasilia is very important because there President Evo Morales will express his willingness that we want to belong to Mercosur" as a full member said Davila in La Paz.
However this decision does not necessarily mean "Bolivia will be abandoning other regional integration processes such the Andean Community of Nations, CAN".
In recent weeks President Morales confirmed he had received, together with Ecuador an official invitation to formally incorporate to Mercosur as a full member, a step further from its current condition of associate member.
Morales also made it a point to underline his preference for Mercosur since this trade block "does not have a free trade agreement with the US" as happens with CAN, where both Colombia and Peru effectively have such agreements with Washington.
Minister Davila said that the incorporation of Bolivia to Mercosur can be expected to take over a year since the legislatives of all full member countries must vote on such a move.
Mercosur is Bolivia's main trading partner, with exports to the block last year totalling 4.1 billion dollars equivalent to 45% of overseas sales.
However Bolivian farmers and manufacturers associations have already warned about the need of 'a sensitive products' list since competition from Argentina and Brazil could be overwhelming.