Brazil says Venezuela leader Chavez will attend the Mercosur summit Friday
Tuesday, December 4th 2012 - 03:07 UTC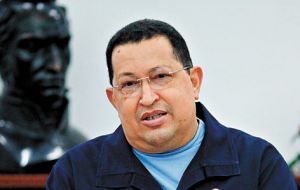 Venezuela's President Hugo Chávez will travel to Brazil for the Mercosur summit next Friday despite cancer-related medical treatment in Cuba, Brazil's ambassador revealed on Monday.
If confirmed, the 58-year-old Chávez's presence at the Mercosur trade bloc meeting would indicate his latest health scare is not as bad as some are speculating. Venezuelan officials have yet to confirm the announcement.
Chávez was still in Cuba on Monday and it was unknown if he would return home first if he should decide to go on to Brazil.
Having won re-election in October for a new six-year term Chávez has made scant appearances since then and has not been seen in public since Nov. 15.
Last week, he left for Cuba, saying in a letter he was to receive "hyperbaric oxygenation" - a treatment used to alleviate bone decay caused by radiation therapy. The president has undergone three cancer operations in Cuba since mid-2011.
So while officials are playing his latest treatment down as a secondary follow-up to successful removal of two cancerous tumours he has had in the pelvic area, media is awash with rumours that his condition could be much graver.
"His presence is confirmed, that's what I understand," Brazil's ambassador in Venezuela, Jose Antonio Marcondes de Carvalho, told reporters when asked if Chávez would be at the Mercosur meeting.
Chávez's unusual silence and invisibility has extended to his normally humming Twitter account where he has posted no new messages since November 1.