Falklands' lawmakers at BOT meeting with UK ministers in London
Tuesday, December 4th 2012 - 19:31 UTC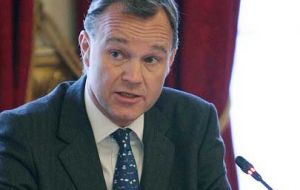 The Joint Ministerial Council met for the first time on Tuesday bringing together political leaders from the Overseas Territories and UK Ministers to work together on several issues including strengthening economies and the environment.The Falklands government is represented by members of the Legislative Assembly Jan Cheek and Sharon Halford.
Minister for the Overseas Territories, Mark Simmonds, opened the first annual Joint Ministerial Council bringing together political leaders from the Overseas Territories and UK Ministers to drive forward implementation of the vision and strategy set out in the June 2012 White Paper The Overseas Territories: Security, Success and Sustainability.
The Council aims to agree priorities and plans for the UK and the Territories to work together on wide range of issues including: building successful and resilient economies; harnessing support from the Commonwealth and the EU; cherishing the environment and creating green growth; working together for better government; building stronger, healthier and safer communities; health; and education.
The Prime Minister will welcome elected leaders to Downing Street on Wednesday: the first time that Territory leaders have had a collective meeting with a Prime Minister. Ministers and senior officials from wide range of UK Departments will take part in the Council, demonstrating the commitment from across government to working with the Territories.
Speaking ahead of the meeting Foreign Office Minister, Mark Simmonds said he was delighted to welcome elected leaders from the Overseas Territories to the Joint Ministerial Council.
"This is an opportunity for us to strengthen our work together to build flourishing communities, proudly retaining aspects of their British identity, creating new opportunities for young and future generations and protecting natural environments to the highest international standards.
"This year, we have demonstrated our commitment to preserving the astounding natural environment in the territories, by establishing a new Marine Protected Area in South Georgia & the South Sandwich Islands and launching Darwin Plus, the new Overseas Territories Environment and Climate Fund."