Gibraltar's Picardo meets UK minister to discuss controversial Spanish legislation
Tuesday, December 4th 2012 - 20:36 UTC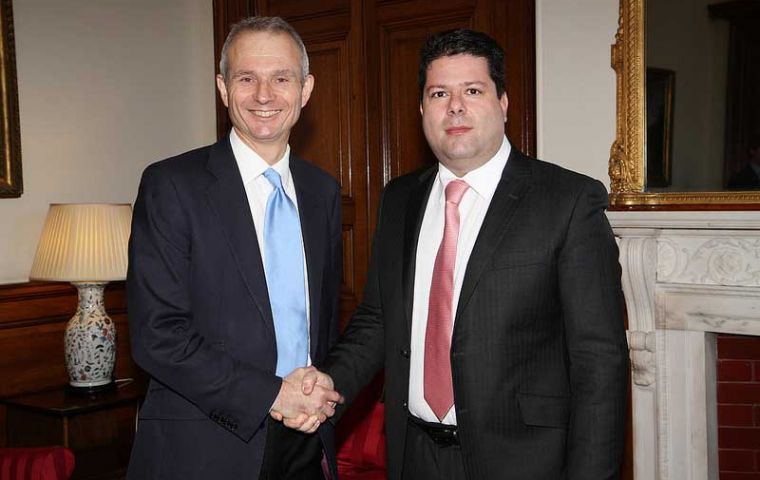 Gibraltar Chief Minister, Fabian Picardo held a meeting on Monday with UK Minister for Europe David Lidington in which they discussed their concerns over Spain's purporting to pass legislation banning land reclamation and the offshore storage of fuel in Gibraltar waters.
The bans form part of a wider legislative initiative approved by Spain's Council of Ministers to upgrade the status of a Spanish 'EU-approved' nature site that covers the entirety of British Gibraltar territorial waters.
The local government said that a number of issues affecting Gibraltar were discussed during the meeting including the publication last week of the Spanish Government's Management Plan for the SAC which includes British Gibraltar Territorial Waters.
"This development is totally unacceptable to the Government and the seriousness in which HMGoG holds this issue was conveyed to Mr Lidington," said No6.
In a statement reflecting an agreed line with the Foreign Office, No 6 said that Mr Lidington "was clear in his support for Gibraltar. He recalled British sovereignty of the waters around Gibraltar and noted that the new management plan will not affect Britain's sovereignty."
No 6 said that the UK and Gibraltar agreed to continue to work together across a wide range of issues, "including to seek the removal of the Spanish designation and to continue to robustly challenge any further incursion".
Gibraltar Governor Sir Adrian Johns, also in London to meet with BOT governors, will also raise the issue with Mr Lidington it was reported.
On Friday, ahead of the visit, Sir Adrian said that he was clear that Spain's move "has no impact on British sovereignty over BGTW, since the UK does not recognise the Spanish listing of either an SCI or an SAC within BGTW, nor any other Spanish attempt to exercise jurisdiction within BGTW". "
He also confirmed then that the FCO would make an urgent formal diplomatic protest in Madrid to reaffirm that the UK does not recognise any Spanish SCI or SAC within BGTW nor any Spanish attempt to exercise jurisdiction within BGTW.
Chief Minister Picardo and Dr Garcia are in London for the Joint Ministerial Council of the UK Overseas Territories. The Chief Minister was accompanied by the Deputy Chief Minister Dr Joseph Garcia, Chief Secretary Ernest Gomez and UK Representative Albert Poggio.