OAS envoy open support for Paraguayan president Franco and electoral process
Tuesday, December 4th 2012 - 18:34 UTC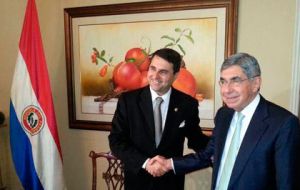 The head of the Organization of Americas States, OAS electoral observers' mission said that Federico Franco was the legitimate democratic president of Paraguay committed to holding transparent elections next April, elections which nobody in the world questions.
Former Costa Rica president and Nobel Peace Prize Oscar Arias arrived in Asuncion on Monday and has already met with President Franco and Foreign minister Jose Felix Fernandez Estigarribia.
"We know nobody, no where in the world is questioning President Franco and we can forecast that the presidential election is going to evolve normally with guarantees for all candidates and that this government is committed to free and fair elections of which I have no doubts", said Arias.
"In OAS we are convinced that the process leading to the 21 April 2013 elections will be transparent, peaceful and normal" he added.
However the Nobel Peace prize said it was important that "the world acknowledges this and supports what the Paraguayan government is doing in a climate of absolute tranquillity. That is why it is important that we should be here, and I have the job of being a guarantor of this and so it will, and proudly".
Arias is scheduled to remain in Paraguay until Friday and will be meeting with all political parties, the business community, media, unions and non government organizations. On Wednesday the former president is scheduled to meet with the members of the Electoral Tribunal responsible for the April elections.
When asked about the attitude of Unasur, Union of South American Nations, which upheld the suspension of Paraguay, despite a favourable report from its special high level envoy, Arias said he preferred to talk about the issue once the round of political contacts is over.
Mercosur and Unasur suspended Paraguay until next April following the removal of Fernando Lugo and replacement by Federico Franco, as a result of the political impeachment by the Senate. The two regional groups said that there had been a "rupture of the democratic process".
However an OAS fact finding mission headed by OAS Secretary General Jose Miguel Insulza reported that Paraguay was institutionally stable with normal political activity and full exercise of human and civil rights.
OAS based on the report could not agree on sanctions to Paraguay and on the contrary has tried to support the country.
Foreign Minister Fernandez Estigarribia said that following the meeting with President Franco, Arias said he was surprised how little Brazil pays Paraguay for all the power it absorbs from the Itaipú dam, the largest operational complex in the world.
"He was surprised the price of power was fixed on such long term" said Fernandez Estigarribia adding that Arias valued the support for Paraguay at the Parlatino (Latinamerican Parliament) and the fact that all those involved in the Curuguaty case were arrested alive. The case which triggered the downfall of then president Lugo refers to a shoot out between law enforcement officers and organized land break-in gangs.