Argentina files complaints at WTO against US and EU for bans on beef and bio-diesel
Wednesday, December 5th 2012 - 23:53 UTC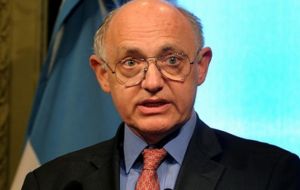 Argentina has filed complaints with the World Trade Organization against the United States over limits on beef and lemon shipments, and against the European Union and Spain for curbs on bio-diesel, Foreign Minister Hector Timerman announced.
"We're open to keep talking while this complaint is handled by the World Trade Organization," Timerman told a news conference, adding that the complaints were filed on Wednesday.
In an official release Argentina argues that the complaints were filed after trying unsuccessfully to bilaterally solve the protectionist measures imposed by the US and the EU and with over a decade of implementation.
In the case of the US which has banned Argentine fresh, frozen and chilled beef, these products are currently exported to countries with very high sanitary standards argued Timerman. Furthermore the US does not recognize Patagonia as a zone free of foot and mouth disease without vaccination despite the fact the status dates back to 2003 and was extended by the Animal Health Organization, OIE, whose regulations have global acknowledgement and are recognized by the World Trade Organization.
Argentina last year exported 731 million dollars of boneless beef, fresh and chilled and so far this year the volume is equivalent to almost 500 million dollars, points out the release.
Likewise with fresh lemons from the northeast of Argentina the ban has been in place for eleven years despite the fact that Argentina exported 172 million dollars last year and so far this year 190 million dollars to 61 different countries.
Regarding the EU, Argentina has questioned a specific Spanish government order which bans the use of Argentine bio-diesel as bio-fuel for transport. Last year Argentine bio-diesel exports to the EU totalled 1.9 billion dollars and 1.2bn until last August. Of total sales to the EU, 1.1bn were to Spain or 53% of the country's total exports of this product.
It is more than evident that the Spanish government order seriously affects Argentina's production of renewable fuel, of which the country has become one of the world's leaders, underlines the foreign ministry release.
Finally these complaints are in addition to other claims lodged by Argentina before the WTO against several developed countries because of "the proliferation of sanitary, phytosanitary and technical instructions with no scientific support which restrict arbitrarily and unfairly the exports from developing and less developed countries perpetuating a system of misbalanced multilateral trade which is again evidence of the double standards existent for developed and developing countries in international trade".