Argentine bullying tactics are despicable says Falklands MLA Summers
Wednesday, December 5th 2012 - 20:33 UTC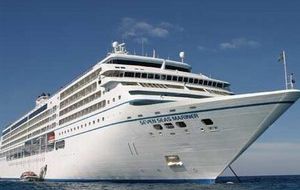 The Argentine Government's acts of intimidation towards cruise companies which have planned to visit the Falkland Islands continues to impact on the Islands tourism industry with a further two ships cancelling their February visits on Wednesday.
The 'Seven Seas Mariner' and 'Regatta' were due to visit on February 8 and 9 respectively, but have on Wednesday cancelled, citing their reason as the action the Argentine Government is taking against vessels including the Falkland Islands on their itineraries.
Sulivan Shipping is agent for the vessels owned by Prestige Cruise Holdings. The Seven Seas carries 700 passengers and the Regatta 600 representing a significant loss of monies to those who rely on tourism to boost their income throughout the season.
Tourist Board Chairman Assembly Member Mike Summers said the news that the Prestige Cruise group had, "caved in to Argentine pressure," was extremely disappointing, and demonstrated, "a disturbing lack of backbone by the company officials involved."
MLA Summers said a number of small Falklands businesses would be directly affected, although the Falklands economy generally would not notice the difference.
"This type of bullying by a large aggressive neighbour against a small innocent community is despicable, and deserves to attract worldwide condemnation," he declared.
Sharon Jaffray – MercoPress - Stanley