Uruguay exporters complain about competitiveness and cheap dollar problems
Wednesday, December 5th 2012 - 21:08 UTC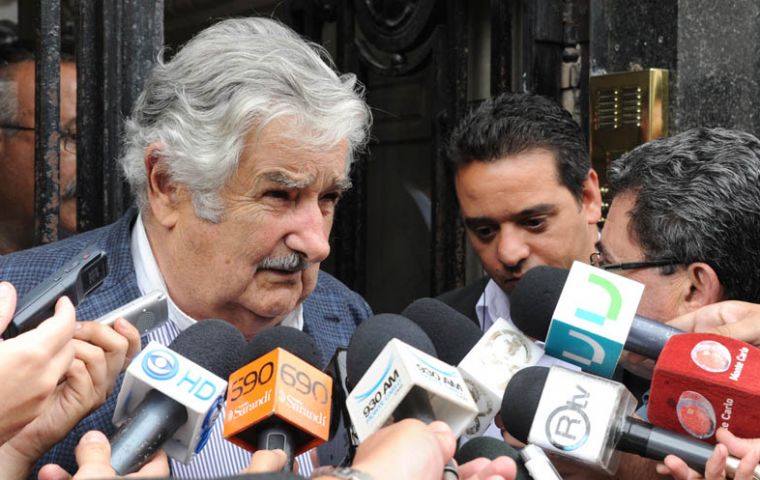 President Jose Mujica admitted on Tuesday before the country's Exporters Union lobby that Uruguay has competitiveness problems and it is 'not an easy challenge' but nevertheless 2012 will again be a record year for overseas sales.
The Union of Uruguayan exporters, UEU called on Mujica to help exports by reducing taxes and pre-financing operations and at the same time revealed the results of an opinion poll among members which stated that the main problems they face are lack of sufficient roads and ports infrastructure, the price and supply of energy and lack of qualified labour.
Mujica said that record exports are 'good news' but at the same time acknowledged that "there are growing problems for those exports with added value, particularly to the region and this because of the fluctuations of the exchange rate mainly the US dollar, the trade currency".
"The exporters asked me to keep track of this because it is a problem that in the future can slow overseas sales but it is not that extended because those activities linked to high technology are not exposed to that danger", said Mujica.
But "it's not simple for the government to improve competitiveness and the value of the US dollar, although we will have to do something about it" promised Mujica who also argued that the US dollar has become a highly volatile currency.
The president also pointed out that his administration is working to improve infrastructure, education and a review of export taxes. But the UEU authorities were not entirely convinced and complained there are no clear signals from government.
"Yes the president admitted that competitiveness is going through a difficult moment but we believe there are not clear signals from government" said Alvaro Queijo, UEU president, who added that the issue of inflation was not addressed.
"I'm sure public utility rates won't be increased on January first as we have been accustomed to, but later on after a few months so the impact won't be so great", said Queijó.
The UEU head then went on to moderate the 'record exports' statement saying they are mostly primary goods (soybeans and cereals) and "yes it will represent a 10% increase over the previous year but the overall picture is not good: we have the added value sectors that are suffering".
Queijó said that is one of the reasons "we are asking the government to lower taxes and help with pre-financing exports. We have a serious competitiveness problem and need urgently to solve it".
In support of Queijó words the latest numbers on Uruguay's exports effectively point to a new exports record in the twelve months of this year compared with 2011. But in November sales totalled 691 million dollars which is 4.2% lower than a year ago, according to government stats.
This is the first inter-annual drop since last April (2.9%) and the largest since December 2011 with a contraction of 4.9%. This was because of a significant drop in Uruguay's five main export items: cereals, down 19%; dairy products, 2%; wood and coal, 27%; plastic, 3% and wool and textiles, 9%.
November exports to Brazil and Argentina were down 1.2% and 9.8%.
But overall despite the November drop, the eleven-month exports increased 10.4% totalling 8.1 billion dollars with soybeans soaring 62%; wheat 52%; fresh beef 22% and rice, 21%.