FOGL ends drilling program in south Falklands; begins further seismic surveying
Thursday, December 6th 2012 - 21:09 UTC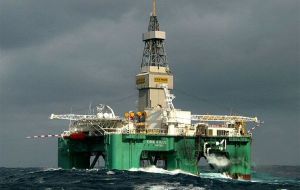 Falklands Oil & Gas (FOGL) announced Thursday it had abandoned its Scotia exploration well in the south basin after disappointing results, thus completing its 2012 two-well drilling (Loligo and Scotia) program in the Falkland Islands.
"Whilst reservoir quality at this particular location was poor, it should be recognised that .... Scotia covers an area of approximately 350 square kilometres. As such, further technical work is required to assess just how representative this result is, and whether or not better quality reservoir may exist elsewhere within Scotia", said FOGL in an official release.
The Leiv Eiriksson rig will now be demobilised and returned to Norway in the near future while PGS M/V Ramform Sterling is expected to arrive in the Falklands and commence 3D seismic program.
"The well data which was drilled to a depth of 5.555 meters will be invaluable for calibrating the forthcoming 3D seismic program" and when combined with detailed analysis from the Scotia well, should allow identification of better quality reservoir and differentiation between oil and gas prospects".
FOGL CEO Tim Bushell in the brief statement thanked all those involved in the planning and execution of the drilling campaign and anticipated the company was looking forward to evaluating the results of the two wells drilled in 2012 and incorporating these, together with the output from the forthcoming 3D surveys, into our future drilling plans."
The release also said that after the 2012 drilling program was completed it would have 220m dollars cash in the bank. But the market has taken the news badly, with the company's shares slumping 46% to 34p.
Merchant Securities said: "The immediate result is a disappointment as the well did not confirm the presence of oil or high quality reservoir. We are reducing our target price to 57.7p from 152.0p to reflect that the Scotia well results did not confirm a commercial discovery. We are changing our recommendation from buy to sell".
The FOGL release comes shortly after Desire Petroleum issued a positive update on its operations in the Falkland Islands and Rockhopper Exploration announced share purchase operations by Odey Asset Management LLp and UBS Ag London Branch.