Gibraltar will be competing in UEFA 2013 Euro Futsal and U17 and U19
Thursday, December 6th 2012 - 21:26 UTC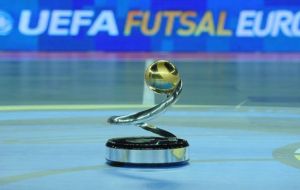 The Union of European Football Associations, UEFA, has included Gibraltar in the Futsal qualifiers for the Euro 2013 Cup to be played in France next month and in the U17 and U19 tournaments to be disputed beginning next autumn. This is considered a remarkable step for Gibraltar's football on the Uefa/GFA 'road map'
In the Fusbal qualifier Gibraltar will be competing with France, San Marino and Montenegro.
A note on the official website stated that "the UEFA Executive Committee admitted Gibraltar as a provisional member of UEFA on 1 October 2012. This follows a ruling by the Court of Arbitration for Sport (CAS) in August 2011. A decision on the admission of the Gibraltar Football Association (GFA) as a full member of UEFA will be taken by the XXXVII Ordinary UEFA Congress in London in May 2013. As per a UEFA Executive Committee decision, Spain and Gibraltar cannot be drawn into the same group (so the winners of Gibraltar's preliminary round group cannot be drawn in Spain's main round group)."
Meanwhile a GFA delegation spent three days at UEFA headquarters in Nyon, Switzerland where it was announced that it would be competing in the Under 17 and Under 19 tournaments to be contested next autumn. In the U17, Gib was drawn in a group with England, Republic of Ireland and Armenia while in the U19 the group includes Czech Republic, Croatia and Cyprus.
The GFA delegation to UEFA was made up of Gareth Latin (President), John Cruz (Seniors/U19s) and Leslie Asquez (Junior Chairman /U17).
FIFA vice-president Jim Boyce quoted by the Sun newspaper said he believes membership of UEFA for Gibraltar is almost inevitable: "I attend UEFA executive meetings as a FIFA vice-president but I don't have a vote at them.
"Gibraltar's full membership is a decision for UEFA but it will be difficult to keep them out because they went to the Court of Arbitration and won their case" said Mr Boyce. He added that Gibraltar has provisional membership status but it was included in the draws for next season's UEFA Under-17 and Under-19.