Brazil helped by good weather heading for record soybean and corn crops in 2012/13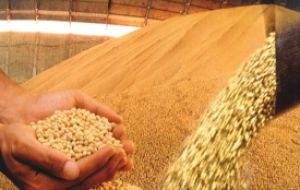 Brazil held forecasts for a record 2012/2013 soybean crop with the latest estimate from Conab, the Brazilian crop bureau, at 82.6m tons, towards the top of the range of 80.1m-83m tons previously anticipated and representing a jump of more than 20% year on year.
"The climate framework is favourable in all producing regions of the country," Conab said dismissing fears over November dryness in southern areas, after recent rains.
The figure compares with an estimate of 80.5m tons from the International Grains Council and 81.0m tons from the US Department of Agriculture, with FCStone's Brazilian office earlier this week pegging the crop at 80.0m tons.
Soybean prospects were also gaining some boost from a switch by farmers to the oilseed from main-crop corn, which is earlier-sown, and tends to be the second choice for Brazilian growers.
"Corn is losing space to soy in all states where there is a competition for area," Conab said.
Nonetheless, the Brazilian corn crop was pegged at a 71.9m tons, within the range of 71.6m-72.9m tons previously forecast, and representing a drop of less than 2% year on year.
The USDA has the crop at 70.0m tons, and the IGC at 71.0m tons.
However in spite of the encouraging prospects in Brazil , data from the Buenos Aires grains exchange showed Argentina's farmers continuing to battle with wet weather, with both corn and soybean plantings falling further behind last year's pace, "due to interruptions caused by continuous rains".
Soybean seeding progressed by 8.7 points week on week to 53.9% completion – a delay of 15 points year on year, and equivalent to about 3.0m hectares. A week ago, the delay was 11 points.
"The provinces of Santa Fe and Entre Rios received strong volumes of rainfall," the exchange said, with planters "paralysed" in western Buenos Aires province and La Pampa "as a result of the volume of water received".
In south eastern Córdoba "there were several hectares swamped as a result of heavy rainfall accumulated over recent weeks".
For corn, growers sowed some 2.7% of their crop during the latest week, meaning plantings are now 55.1% completed. However, this left planters 14 points behind the pace, equivalent to some 480.000 hectares, and up from a delay of 12.4% a week ago.