Falklands cricket team on sports and PR tour visit Jamaica
Friday, December 7th 2012 - 05:41 UTC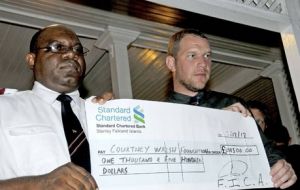 The Falkland Islands cricket team on a tour in Jamaica presented the local Courtney Walsh Foundation with a cheque of 1.500 dollars during a reception to welcome the players, reports The Gleaner from Kingston.
The Falklands team is in Jamaica on two-match promotional tour made the presentation at a welcome ceremony held at the British High Commission on Monday night and hosted by High Commissioner Howard Drake and wife Jill.
"A part of our tours to various countries is to identify a charity organisation," said Falklands captain Ian Betts.
"We heard of the Courtney Walsh Foundation and said 'what better organisation to assist, given the work they do using the sport in communities?'"
The Courtney Walsh Foundation uses cricket as a tool to assist 'at risk' youngsters in inner-city communities, disability cricket and cricket for change initiatives in correctional facilities.
"We are delighted to be chosen by the Falkland Islands as their charity of choice," said Major Edward Lyons, vice-president of the Courtney Walsh Foundation.
"The work that we do is numerous and with every assistance that we get we appreciate, as we know it will be used to assist persons in need."
The ceremony, which was attended by a number of Jamaican political and corporate dignitaries, also saw Jamaica Cricket Association president Lyndel Wright applauding the donation.
"The development of cricket is multi-faceted and some of these areas include cricket for at-risk youths, the less fortunate and those who are undergoing rehabilitation," said Wright.
"The Courtney Walsh Foundation has been doing a good job at this, and with donations like these, it can only assist in them carrying out their functions."
The Falklands, an International Cricket Council Americas associate member, played their first match against Clarendon Masters at Port Esquivel on Tuesday and were scheduled to play at the same venue with a Jamaica Masters XI.