Falklands & Southern Oceans Department re-established at the Foreign Office
Friday, December 7th 2012 - 14:23 UTC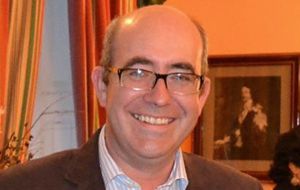 The reestablishment of a Falklands Department at the Foreign and Commonwealth Office has been announced by Peter Hayes, Director of the Overseas Territories, on Wednesday.
As part of a restructure of the Overseas Territories Directorate (OTD), three new departments will sit underneath OTD.
Martin Longden, who has visited the Falkland Islands twice since joining OTD in early 2011, will head the new Falklands & Southern Oceans Department.
Similarly, the Polar Regions Unit which has responsibility for South Georgia and South Sandwich Islands, will now be known as Polar Regions Department, headed by Jane Rumble.
Mr Hayes commented: "Whilst much of the rationale for this change is to bring OTD's structures into line with other FCO Directorates, the reestablishment of a Falklands Department also reflects the increasing political importance that Ministers and senior officials attribute to our Falklands work.
"Supporting the Islanders' right to self-determination and economic development is a key FCO objective for 2012/13. We have increased by half the size of the Falklands team in London, whilst employing extra resource across our diplomatic network to assist with this effort (including new positions in Washington DC and Stanley)."
He said HMG and FIG together had made significant progress in promoting the rights of the Islanders. (Penguin News).-