Overseas Territories reaffirm self determination and call for de-listing from Decolonization Committee
Friday, December 7th 2012 - 17:43 UTC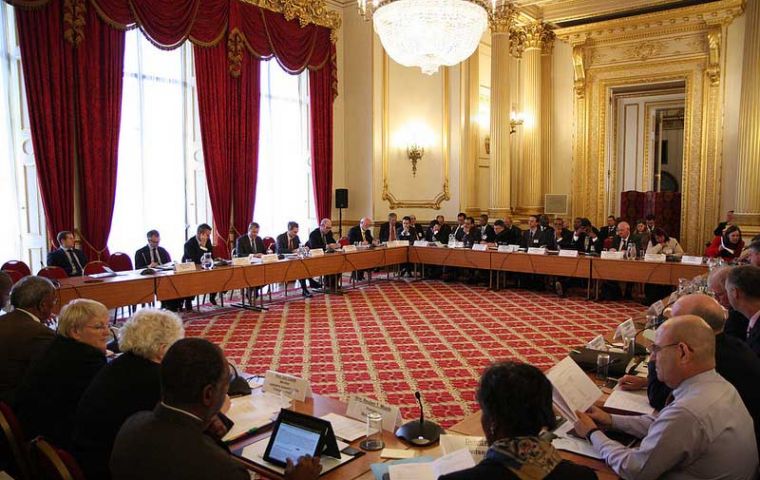 The British Overseas Territories Joint Ministerial Council this week agreed a joint statement underscoring a shared commitment to self-determination. The Falklands were represented at the council by lawmakers Jan Cheek and Sharon Halford.
The 10-page statement sets out priority issues and a comprehensive action plan for joint work in the coming year, ranging from promoting economic growth to ensuring environmental sustainability.
"We are committed to a modern relationship based on partnership and shared values," the communiqué said.
"We share a commitment to the principle and right of self-determination."
"The people of each Territory have the right to choose whether or not their Territory should remain a British Overseas Territory."
"Any decision to sever the constitutional link between the UK and a Territory should be on the basis of the clear and constitutionally expressed wish of the people of the Territory."
"We believe that the UN decolonisation C 24 committee should de-list Territories where this is their wish."
This was the first meeting of the Joint Ministerial Council, which replaces the Overseas Territories Consultative Councils and brings together Premiers, Chief Ministers and other elected representatives from Britain's Overseas Territories.
The Joint Ministerial Council will meet once a year at a mutually convenient time and will:
lead work to review and implement the strategy and commitments in the June 2012 White Paper The Overseas Territories: Security, Success and Sustainability;
provide a forum for the exchange of views on political and constitutional issues between the governments of the Overseas Territories and the UK Government;
promote the security and good governance of the Territories and their sustainable economic and social development; and
agree priorities, develop plans and review implementation.
The joint statement sets out priorities ranging from ensuring good governance in public affairs to pushing green initiatives and promoting healthy lifestyles.
The members of the council, which is chaired by Britain's Minister for Overseas Territories Mark Simmonds also agreed to raise the international profile of the overseas territories.
In particular, the Council will work to build closer relationships with the EU and the Commonwealth.
"We encourage the EU to agree an ambitious Overseas Association Decision that provides real opportunities for enhancing trade and provides effective support for economic development and takes into account the specific interests of the UK's Territories," the joint statement said.
"We encourage the Commonwealth to continue to consider opportunities for the Territories to participate, where appropriate, in Commonwealth life, including with small island states, which face many similar challenges."
Mark Simmonds, Minister for the Overseas Territories, said: "The White Paper sets out a very positive vision for the Overseas Territories."
"This first meeting of the Joint Ministerial Council has helped us identify an ambitious list of priority areas for action, such as encouraging economic growth; protecting the environment and making government work better."
"We will work closely with the Territories in the coming year to achieve what we have together set out to do."
"Many of my Ministerial colleagues from across Government took part in the Council this week, demonstrating that the UK Government as a whole is committed to supporting the Territories."