Standard Chartered ready to settle with US regulators for making business with Iran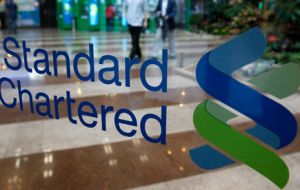 Standard Chartered expects to pay 330 million dollars to US regulators to settle claims that it did not comply with US sanctions against Iran. The amount is on top of 340m it paid to New York's Department of Financial Services (DFS) earlier this year.
The DFS had accused it of hiding 60.00 transactions with Iran worth 250bn dollars over nearly a decade. The bank admitted that some of its transactions did break US sanctions, though it disputed the total amount.
"The group remains in active and constructive discussions with the other US agencies on the resolution of the group's historical US sanctions compliance," the bank said in a statement.
"We anticipate that these discussions will conclude very shortly."
The four US regulators the bank is negotiating with are the Federal Reserve Bank of New York, the Office of Foreign Assets Control, the District Attorney of New York's Office and the Department of Justice.
Despite the big settlements, the bank said it expects its full-year profit to rise at a "high single-digit rate". It said that profit growth would be helped by the strong performance of its operations in countries such as China, Malaysia and Indonesia.
Income at its African, American, European and UK units is also expected to show double-digit growth. The bank said that it had also managed to keep its costs in check, which had helped to further boost its profits.
"We continue to focus on the basics of banking, on maintaining a very strong and conservatively positioned balance sheet, and on the disciplined execution of our strategy," said Peter Sands, chief executive of Standard Chartered.
"We continue to see significant opportunities across our markets in Asia, Africa and the Middle East" (BBC)