Bolivian industry warns about the Mercosur 'straight jacket' and protectionism
Saturday, December 8th 2012 - 03:47 UTC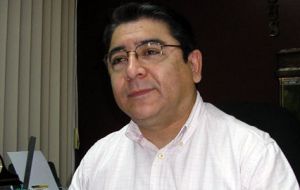 The incorporation of Bolivia to Mercosur must not become a "straight jacket" that leaves the country with no margin to negotiate trade agreements with other regions, said the private business organization, Bolivia Foreign Trade Institution, IBCE
Bolivia on Friday signed a protocol of incorporation to Mercosur (Argentina, Brazil, Uruguay, Venezuela and Paraguay suspended), "a step that it is not clear if it means new business opportunities for Bolivia", said Gary Rodríguez, CEO of IBCE.
"Let's hope it does not turn out to be a straight jacket for Bolivia, which impedes us from discussing an association agreement with the European Union, a long term free trade agreement with the US or trade accords with any of the Asian countries", demanded Rodriguez.
He also asked that the Mercosur incorporation does not impact on Bolivian sales to the Andean Community of Nations, CAN, of which it is a full member and that Bolivia is not forced to adopt a tariffs system to favour Mercosur industry and production "in disadvantage for Asia, US or the European Union".
Rodríguez referred to the "protectionist character of the Mercosur block of which Bolivia is a victim" and recalled that President Evo Morales administration last week assured Bolivian farmers and manufacturers that none of their fears regarding Mercosur competition would materialize.
"The Executive promised to work with the private sector to prepare the strategy for negotiations to address the incorporation to Mercosur" insisted Rodriguez who also mentioned that Bolivia must insist with the non tariff and pseudo tariff barriers imposed by Brazil and Argentina to limit the access of Bolivian goods to those markets.
Although the access of Bolivian goods to the Argentina and Brazil is theoretically guaranteed, goods with added value such as textiles, medicines and high technology products "systematically collide with customs, financial, bureaucratic and legal barriers which make exporting extremely difficult", said the IBCE chief.
While with CAN members Bolivia has a complementation relation regarding exports, Argentina and Brazil are strong competitors and enjoy a technology which the land locked country does not have. Mercosur exports almost 4.000 items to Bolivia annually.
Likewise the president of Bolivia's Oilseeds farmers association Demetrio Perez was also cautious about Mercosur and its consequences.
"If we finally join Mercosur, obviously the most sensitive products will be soybeans and by-products, since we are the only exporters to the other CAN members. Let's hope the government takes this into account when it sits down to talk about tariffs", said Perez.
Mercosur is the main soybean producing area of the world with Brazil, Argentina and Paraguay leading exporters, and they have technologies that "we haven't even approved" concluded the oilseeds farmers' president.